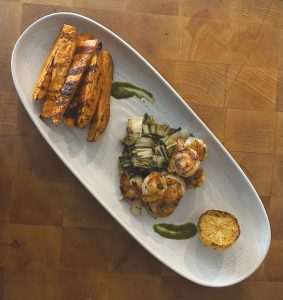 By Paul Suplee,
MBA, CEC, PC-3
I have been told by quite a few good folks that they have been reading this article for years, and some even claim to have read it since its inception in 2005. My stock response is, "I am so sorry, and I hope that you can heal from what I do to you."
I love this column, as many of you know, but I don't believe that it's much more than the nonsensical drivel of a rambling old chef.
Be that as it may, I always hope that it brings something to the table: a laugh, a tear, something in the kitchen that someone may have never thought about, a new technique, who knows?
The one critique that I get more than any other is that my recipes are too difficult, and while some of them may possess a certain je ne sais quois to the average home cook, for the most part the vast majority of them are simple and straightforward.
Of course, they are to me, because I have been cooking for decades … many, many decades. It is second nature to me.
I play guitar and piano as well, and years ago I tried to teach my kids, but one by one they all ran away in fear, as I would not be able to come down to their level.
Instead of teaching them a simple three-note progression, I would rip into some inane riff that made no sense. And then I would ask them what they weren't understanding.
No one is perfect, and while I enjoy teaching, I certainly was not able to teach music to my own children.
So here we are, pondering the greatness of learning and teaching (well, that is what I am pondering now, anyway).
Imagine how maddening life would be if we never learned anything new, if we were so set in our ways that we didn't want to venture out of our little box?
There are way too many great things to try in this world to me. And imagine if we never had an interest in teaching what we know to anyone willing to learn. How lost we would be.
Perhaps you've noticed that I enjoy travel. For me, traveling can be as simple as an overnighter in Lewes or New York or even Philadelphia.
A short drive dumps me onto the Outer Banks, and a longer drive will by its very definition send me somewhere farther away.
The point is, I love to travel and explore. By the college there are a number of islands that I have yet to check out.
So, after school, I tend to explore our own neck of the woods. I eat in local places, and I listen to the cooks. I learn from them.
At the end of the day, this dish is incredibly simple, yet flavorful.
Make it, eat it and tweak it to your tastes and fancies. That is where the real learning begins.
Napa Shrimp, Sweet potatoes
Serves 2
12 ea. large shrimp, peeled, deveined and butterflied
1 Tbsp. Avocado oil
2 tsp. Blackening seasoning
4 c. Napa cabbage, chopped into 2-inch pieces
1 lemon, halved
2 sweet potatoes, peeled and cut into wedges
3 Tbsp. Melted butter
1 tsp. Thyme leaves
1 tsp. Granulated garlic
2 Tbsp. Tajin hot sauce
Salt & Pepper to taste
2 Tbsp. Cilantro puree (recipe follows)
Toss potatoes in butter, thyme, garlic and place in a single layer on a roasting pan.
Swipe the hot sauce back and forth, giving the illusion of 'grill marks' on the potatoes.
Season with salt and pepper and roast until tender, about 30-40 minutes.
For the shrimp, ensure that the tails are removed. This is an absolute pet peeve of mine, as no guest of mine should ever have to stop what they're doing and dig into the their dish to remove tails.
Heat the oil and toss shrimp and seasoning in the pan, cooking until done and then removing to a plate to keep warm.
Quickly add the cabbage to the same pan and cook, allowing the water that will escape the cabbage to deglaze the pan for you. You will have some shrimp and other flavors already in the pan, but taste and season accordingly.
Put the shrimp back in pan with any juices, and squeeze a little bit of each lemon half on top.
Take the lemon halves and set over an open flame (or a smoking hot cast iron pan) to give them a nice char. Some chefs claim that this gives flavor to the lemon, but I personally think it makes the dish look a little more "Gucci." That's good enough for me.
Plate with the cilantro puree (or herb puree if you hate cilantro, which a fair number of people, in fact, do) and the roasted sweet potatoes,
Cilantro Puree
makes about 1 cup
1 bunch cilantro, stems removed and washed
1/4 c. Olive oil
1/4 c. Red wine vinegar
salt & pepper to taste
Combine all ingredients in a blender and turn into a delightful puree. Keep this in your icebox and use it to garnish anything to your whimsy. You can also add Italian parsley, basil and other herbs of your liking. With the oil and vinegar, this will last quite some time in the refrigerator.
Paul Suplee is the owner of the
boxcar restaurants and is also
Senior Lecturer of Culinary Arts at UMES.
boxcarrestaurants.com