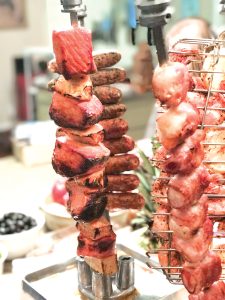 By Paul Suplee,
MBA, CEC, PC-3
Reprint from Sept. 7, 2017
St. Augustine of Hippo wrote quite some time ago – paraphrased – that people can't help "but to watch a man crushed under a cart's wheel, knowing the outcome, but not able to stare away nonetheless."
I remember having a senior honors class on the dude at Loyola back in the 90s, and that was the one thing that I took away from all of those readings.
Nowadays we coin this human phenomenon "train wreck," something that kids first say when they open their mouth full of food to show off to their friends on the other side of the ubiquitous octagonal lunch table.
It progresses from there to full-on train wrecks, whether they be the drama between friends and foes, reality TV or the silly things we see on local news.
The evening hours are creeping up on me, and I'm getting ready to watch "La Femme Nikita" – the original French version with subtitles, with the inimitable Anne Parillaud.
I'm excited, as I haven't seen it in years and it puts Bridget Fonda's redo ["Point of No Return"] to shame. It is a movie that is brutally raw and exciting, invoking inner emotions of ire, vengeance and justice.
But no, I stumble across an American series-remake with a cast I am assuming are leftover members from "Dawson's Creek," "Baywatch" and "Beverly Hills, 90210;" and I can't stop watching it, it's so bad.
It's sensationalistic drama at its finest, complete with Jim Carey-esque overacting and "NCIS" Mark Harmon melodrama that would make Mlle.
Parillaud blush in shame and horror at having the franchise named after her famous film.
This is my train wreck and I cannot look away. It is now 2:30 in the morning and I must be up at 6 a.m., but darn these producers, the cast of pretty-people-playing-bad-guys has me enthralled for no other reason than I just want to find out "what happens next." They are good at the hook, I'll give them that.
Luckily, I sit and ponder this travesty with a bottle of Montepulciano and a belly full of al pastor tacos that I had thrown on the rotisserie for dinner.
There's no need to snack, as I'm feeling good and satiated from our last cookout of summer. Have no fear, though, I cookout all year long, but this is just technically the last hurrah before the kids and I are back in school. But back to the dish.
Al Pastor is a pork preparation that I get when I can from taquerias around the area, and the dish is so easy to make – and satisfying – that I can't help but smile as I run to the fridge to nosh a little more on the leftovers (I lied; I am going to snack my way through this).
Al pastor is a taco that is made from pork that is based loosely on a shawarma-type apparatus.
The dish has some pineapple incorporated, but I honestly cannot tell you when that step in the process was introduced. All I can tell you is that fire-roasting this on a skewer over open hardwood charcoal, and then shaving the meat off, will take you right back to the street carts in Baja or on the mainland.
In the picture, you will probably notice that I used pork loin and I don't recommend this, but it's what I had in the icebox at the time.
Pork shoulder and Boston butt are the preferred cuts for this, but you will need to marinate them longer, as the enzymes in the pineapple and other ingredients will help to tenderize the meat over time.
I went uber-simple on the recipe, even throwing some of you a bone (those of you who often tell me that I overcomplicate things in this column).
You can buy Sazon Goya spice packets that will have everything you need for the marinade.
In the end, at least you know there won't be any drama in the making of your al pastor tacos – a meal that would make even St. Augustine proud.
Cheater al Pastor
enough for about 20 tacos
2 pounds Pork butt
2 packets Sazon Goya*
4 oz. Pineapple juice
1/4 c. Olive oil
Salt & Pepper, only if needed
1 pineapple, skinned
Cut the pineapple into large chunks that won't fall apart when you skewer them
Combine everything but the pineapple in a bowl, tossing well
Marinate in the refrigerator overnight or for at least four hours
This dish is best prepared over an open flame, and a lot of people have rotisseries on their grills, so that's what I would suggest. Otherwise, you can roast this and it will be good … just not the same
Skewer the pineapple and the pork, alternating as you go
Fire-roast this bad boy until the pork is done and getting slightly charred. The smoky flavor with the char and the sweet from the pineapple will literally cause a flavor explosion as you eat
When you are ready to serve, use corn tortillas (I'm a stickler), avocado and/or guacamole, diced tomato, diced red onion, chilies if you prefer and some crème fraîche
Simply shave the pineapple and pork off the skewer in a slicing fashion to make small bits and make your tacos
And have a beer to celebrate the kids being back in school. Go ahead, you deserve it
*get the Sazon with cumin and annatto
— Paul Suplee is the owner of
boxcar40, boxcar on main,
boxcar crafted events and
sportfish catering.
www.boxcarrestaurants.com