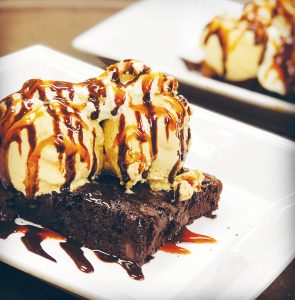 By Paul Suplee, MBA, CEC, PC-3
Today was my last day at the college. To say it was bittersweet would be an understatement, to say the least.
For eight years, that job was the best job I ever had. After that?
Well, that just reminds me of something that a mentor shared with me decades prior.
The man had a pedigree in our industry unlike anyone I had ever met, and the absolute respect that I had for him knew no bounds.
He was the Food & Beverage Director for one of the most prolific French chefs of the '70s and '80s. His career with one of the most successful hotel companies in the world was unparalleled, as evidenced by his adoration of the family being reciprocated up until the very end. He was, to put it bluntly, a solid dude.
Once, upon meeting his lovely wife for the first time, he responded to the question of how long they had been married with "We have been happily married for 25 years. In total, we have been married for 40."
His wife had obviously heard that retort more than once, as she not only did not wince, but in fact laughed and gave him that loving pat that so many of us get when a good ribbing is handed out.
It is time to move on and find greener pastures, and while I will miss my students and coworkers maddeningly, it is time.
Throughout it all, there is one thing for which I am truly grateful. I learned how to bake things. Not great things, but really good things, and that is something that can never be taken away from me.
From sugar sculptures to fine cakes, from icings of many types to desserts of the Middle East and Latin America, I learned how to not act like Lucille Ball in front of a stand mixer. And, for that I am truly grateful. Most chefs never get the opportunity to do that.
And, so I sit here gleefully thinking about the thousands of students who I have had the honor to teach over the past 14 years. And I imagine the many more I will teach at my new job. And I will celebrate now with a freshly baked sundae, because I can.
Homemade Brownies
makes a 10×15 pan
1 1/2 c. Dutch cocoa powder
3 c. Sugar
1 1/2 c. AP flour
1 c. Confectioner's sugar
1 tsp. Kosher salt, fine
1 c. Neutral-flavored vegetable oil
4 large egg yolks, farm-fresh if possible
¼ c. Warm water
Seeds and pulp from 1 full vanilla bean
Divide this into wet and dry parts, and the rest will be a piece of cake… I mean, cookie, as in bar cookie. My apologies; I digress.
Combine cocoa powder, sugar, flour, confectioner's sugar and salt in a sifter and sift the garbage out of it.
In a separate bowl, combine the oil, yolks, water and vanilla and whisk until fully incorporated.
Preheat your oven to 350F, of course.
Here, It may get tricky. And when I say tricky, what I really mean is 'do as little as possible'. Allow me to explain. Like waffle and pancake batter, the more we aggravate and irritate the batter, the tougher the end product will be, so just combine the dry and wet ingredients thoroughly but minimally so as to not strengthen the gluten in the flour. We don't want bread. We want brownies.
Once the batter is done, spray the pan with some non-stick goo, and if you like, you may sprinkle some sugar on there as well. That's up to you.
Pour in your batter and bake at 350F for about 30-40 minutes. Honestly, I could put 27-92 minutes, as there is such a stark difference in cook times of peoples' stoves. Just start checking at 25 minutes and you will be fine.
When a toothpick comes out clean, they're done. Remove and allow to cool and then cut and serve.
Coffee Ice Cream Base
makes a little over a quart
6 ea. Large egg yolks
4 1/2 oz. Granulated sugar
dash salt
3 1/2 c. Heavy cream
1 vanilla bean, seeds and shell
3 Tbsp. Cracked coffee beans
Splash of Kahlua, optional
Combine everything in a vacuum bag until well mixed. And once you make this, you will be sad that you left so much of your time on the counter when making ice cream in the past.
Vacuum seal the mix and place in a hot water bath with an immersion circulator heated to 185F.
Ensuring that it has adequate circulation, cook it for one hour.
Remove carefully from the bath and allow to cool long enough to be able to safely handle the bag.
Set a sieve over a bowl and press the mixture through the sieve. At this point, you have the base that you can use in multiple ways. You could use it as-is as a crème Anglaise, you could churn it now for ice cream, or you can freeze it (vacuum packed, of course) to thaw out and use at a later date.
The beauty of this is the quality of the product does not diminish in the least as long as you follow the proper steps. That's fantastic when you want to make a big batch and store for later use.
— Paul Suplee is the owner of
boxcar40, boxcar on main,
boxcar crafted events and
sportfish catering.
www.boxcarrestaurants.com