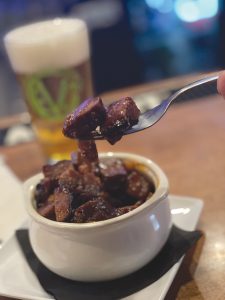 By Paul Suplee,
MBA, CEC, PC-3
I feel as if Thanksgiving is still looming around the corner, awaiting our arrival or perhaps we are ourselves still waiting for the day to get here.
Time is always a blur this time of year, between the holidays, the end of the semester and getting ready for some hopeful winter travel.
I remember quite a number of years ago as all of us sat around the TV on New Year's Eve eagerly anticipating the catastrophe of the Y2K bug.
And yet, it never came. The nail biting was all in vain. The year 2000 came and went, the notion of doomsday long since subsided and we found ourselves wondering what all the hubbub was about.
Time is such a fascinating concept, noted by the countless times parents with young children are told by older people to hold on to "this moment" as long as they can, because they'll be gone before they know it.
Boy, do I know that feeling.
Time is the greatest gift and the ficklest monster. At no time will it not remind you that you are not in charge.
I guess the adage that time stops for no man could not be any truer than when you get a little older.
Smithsonian Magazine once had an interesting article on the idea of time as a social construct, and it is sitting in my brain just past midnight on a Wednesday morning.
We are raised in our society with the concept of time down to every second, minute and hour. We are either late, early or on time.
We are much more rigid than, say, a Polynesian culture where the construct of time is much less rigid in some ways. In Hawai'i, I always loved the local saying "if can, can. If no can, no can."
It reminds me of when my darling late wife and I moved down here 23 years ago and bought a small rancher.
We immediately learned that our sliding glass door was rotten in the frame so after some frantic research we found someone to replace it.
He showed up, tore the door and frame out, nailed a blue tarp over the now-massive hole in our back wall and said he'd be back. It took him 2 weeks to come back.
This was well before we had cell phones, and his home phone would ring and ring and ring.
When his wife finally answered, she was incredibly sharp with us, explaining that it was deer season, and we need to wait, thank you! If can, can. If no can, no can.
It is quite possible that the colloquialism used on that phone call was far less elegant that its Hawaiian counterpart but suffice it to say that it held the same meaning.
Watching my children grow into young adults has been an incredibly rewarding experience.
With all that they have endured, they always seem to succeed. They win the most important battles, and that is truly the only thing a parent can ask for. And as I witness their growth, their mistakes, their adjustments and their brushing the dirt off their pants, I sit here and realize just how quickly time flies by.
And then I realize that I am probably only around a year away from empty nesting, and I set my sights on getting things set up at the ranch for that other old adage of cooking-for-one or cooking-for-two.
It can be difficult to do so but as the numbers in the household dwindle, I guess it's better to be prepared.
And speaking of time, could there be any more fitting food to discuss than smoked meats, and burnt ends in general?
Time is our greatest enemy when smoking foods, and we must use that ugliest of words: patience. The elephant in the room.
Time is the only thing that will give you the perfect bite on pork ribs, or the perfect level of tenderness and crust in chicken thighs.
And when it comes to Burnt Ends, you have nothing but time.
To make these incorrectly is a mortal sin, and we must appreciate that. I have eaten them at Oklahoma Joe's so I know the standard, truly the gold standard.
And it is nothing but time, from seasoning to smoking to dicing to finishing.
Time, you fickle beast.
Burnt Ends
Makes about 5 pounds
5# Thicker portion of brisket cap (smoked)
1 – 1 1/2c. Kansas City BBQ sauce
Assuming that you know how to smoke a brisket, break it down after it is smoky and tender and reserve the point. This is the thick part of the top portion of the brisket and usually very flavorful with a nice fat content.
They don't call it 'Burnt Ends' for no reason, and this is where the name comes from. Cut the brisket point into 1-inch cubes and toss in the barbecue sauce.
Place back into the smoker (and honestly an oven would suffice if you feel you have enough smoky goodness) set to 225F and cook for two more hours. This reduces the sauce to a beautiful, unctuous glaze and gives the burnt ends their luster.
Serve immediately with an ice-cold beer or a Cheerwine. Personally, I don't care for cherry soda unless it is being served with BBQ. I'm not sure what it is about the combination but it is magical, indeed.
— Paul Suplee is the owner of
boxcar40, boxcar on main,
boxcar crafted events and
sportfish catering.
www.boxcarrestaurants.com