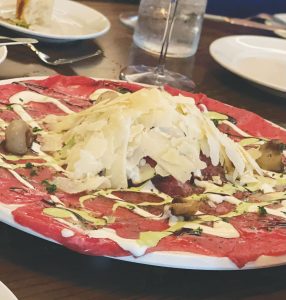 By Paul Suplee,
MBA, CEC, PC-3
Vegas is in the bag. It was a great competition, but at the end I must be content with the addition to my CV of national finalist.
Many congratulations to Chef Jack who won Chef Educator of the Year. It was still quite the experience and hey, it was Vegas. For six days. And we are still alive.
If you have read this mighty tiny tome more than a few times, you are aware that I like to travel.
Nothing makes me happier than the moment when the wheels are up and we are on our way to something new. And so it was when we headed out west.
I had not been to Vegas since 1990. They say the third time's a charm, but that certainly did not hold true as I visited as a young Marine that third trip, losing a month's salary again.
Having much more constraint this time around, I played craps for six days and was none the worse for wear. That's not a bad week.
On top of casinos (some gorgeous and others absolute dumps), the town is chock full of fine eateries. Having had our share of celebrity chef spots, we were searching for something else … anything else.
As we complained to our bartender at the Virgin, he told us to eat at Todd English's Olives. I'm pretty sure that all four of us grunted in unison.
He laughed and said he understood, but to give it a shot. Begrudgingly we did, and lo and behold we ate our final two meals in Vegas there.
Upon the recommendation of our server Michael, we ordered the carpaccio, not knowing what was about to happen.
It was magnificent. It was mind-numbingly delicious. It was one of those dishes that makes you wonder where you have gone wrong all your life; hands-down the greatest iteration of this classical Italian dish. I will do my best to emulate it, but just know that this is but my take on it.
Make it. Relish in its components and if you happen to need a comparison, book that flight. Get out of here for a week. Wheels up, my good people. Wheels up.
TE Carpaccio
enough for 2-3 people
1 ea. Gorgonzola Polenta cake (recipe follows)
1 c. Fresh arugula
Juice of 1 lemon wedge
6 oz. Thinly sliced raw beef tenderloin
Very good quality EVOO, as needed
4 oz. Shaved Parmigiano-Reggiano
4 ea. Pickled Cipollini onions (recipe follows)
3 Tbsp. Roasted garlic cream (recipe follows)
3 Tbsp. Scallion cream (recipe follows)
Large flake sea salt, as needed
Fry the polenta cake in a pan or fryer until cooked through and golden, and place in the center of the plate.
Top with the arugula that you spritz with a little lemon juice.
Starting on the top of the arugula, arrange the beef slices so that they are shingled out to the edge of the plate. This way, the guests can remove the slices from the outside.
Drizzle with the olive oil, garnish with the creams and then top the center with the cheese.
Finish the dish with some sea salt and serve.
Gorgonzola Polenta Cake
makes about 6 cakes
1 c. Fine polenta
3 c. Good quality chicken stock
1 c. Heavy cream
1/2 c. Gorgonzola crumbles
1 Tbsp. Minced parsley
S&P, as needed
2 Tbsp. Whole butter
Combine everything in a saucepan and cook until the liquid is absorbed in the polenta.
This can go for quite a while, as long as you ensure that the polenta does not scorch.
When you are happy with the taste, remove and spread evenly in a sprayed pan.
Chill completely, which will set up the polenta.
Simply cut into the shape that you want and keep chilled until ready to fry.
Pickled Cipollini Onions
makes about 1 quart
1 lb. Fresh Cipollini onions (ask your better produce manager if they can get them)
Olive oil, as needed
1 c. Hot water
1 c. Balsamic vinegar
2 Tbsp. Granulated sugar
Salt, as needed
3 sprigs thyme, whole
Boil the onions for 2-3 minutes whole in water, then drain and cool.
Using a paring knife, peel and cut the ends off.
Heat the olive oil in a pan, and then cook the onions on top and bottom to get some color and some wonderful umami happening.
Add the water, vinegar, sugar, salt and thyme and bring to a simmer.
Adjust the taste and when you're happy with it, remove from heat and allow to cool completely. It is best if these sit in the icebox at least overnight
Garlic Cream
makes about 1 pint
1 pint crème fraiche
15 ea. Cloves of garlic confit (reference earlier articles)
Salt & Pepper, as needed
Puree the garlic.
Add the crème fraiche and combine well, seasoning to taste.
Allow this to sit in the refrigerator overnight.
Strain through a fine sieve and keep cold until ready to use.
Scallion Cream
makes about 1 pint
1 pint crème fraiche
6 ea. Scallions, white and green parts
Salt & Pepper, as needed
Smash the scallions up into a fine mush, reserving all juices.
Combine everything and allow to steep as long as you can.
Strain through a fine sieve and keep cold until ready to use.
— Paul Suplee is the owner of
boxcar40, boxcar on main,
boxcar crafted events and
sportfish catering.
www.boxcarrestaurants.com