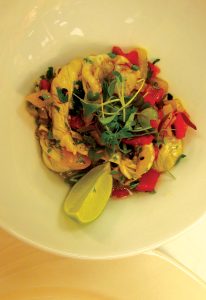 By Paul Suplee,
MBA, CEC, PC-3
I know I said I was done with teaching, but the university made me an offer I couldn't refuse.
And just like my last job, fall semester means that I get to teach our way through the foods of this great country of ours.
We start in New England, where we discover the fruits of cold weather: lobster, clams, cod, squash, pumpkin et al.
As we move down the coast and specifically into Eastern Shore cooking and Southern cooking (two of my absolute favorites), the buffets become noticeably more beige in theme.
The frying of already brown food makes for a fairly dull appearance on the plate, but one that can quickly be elevated by adding some vine-ripened tomatoes, sweet corn and other wonderful local products.
The south is where we see greens cooked to oblivion, usually sugared and piqued with a splash of vinegar, and pies and more fried foods.
Throw in some country ham for an addition of the week's supply of salt and you have a winner. In fact, every time I eat greens from Georgia to Florida, I relish in the fact that they are properly done, or overdone as it were.
And then we have Florida's cuisine, a fusion of Latin, Caribbean and mainland foods.
Seafood is of great importance to Florida as it is surrounded by the ocean on more than one side (True, one may be a "Gulf" but you get the gist), and there is no single dish more symbolic of this cuisine than ceviche, that magical rawish-seafood dish that is bright, vibrant and delicious.
Since we have come to the end of summer, this can serve to remind us of the dog days of summer, or maybe act as a motivation to make it through another cold winter on the shore.
People are still catching their limit in sea bass, which is fantastic in this dish, as can be the mahi and tuna that some friends are still catching up in the Wilmington Canyon. So, whether you find yourself ready to utilize the late season catch, or to remind you of the season that recently ended, it will taste stupendous.
And now that I'm writing about Florida, I realize that I miss it. I haven't been there in a month, and it will be due time soon.
I will make sure to stop in all of the locals-restaurants that I can and sample their wares, comparing them to what I made today. It's a good day. It's a Florida kind of day. I can write it off as another part of teaching.
Ceviche
Serves 5 for pre-meal
1/2 # large shrimp
1/2 # Seabass or mahi, cut into strips or diced
1 ea. Red bell pepper, roasted and peeled
1 ea. Yellow bell pepper, roasted and peeled
1 ea. Fresh Jalapeno or serrano, finely diced
Juice of 3 limes
Juice of 1 sour orange
Juice of 1 lemon
1 Tbsp. sugar
2 cloves garlic, finely minced
Salt & Pepper to taste
1/2 tsp. Cumin (optional because I disdain cumin)
1/4 c. Chopped cilantro
20 ea. Tostones (recipe follows)
Mango Mojo (recipe follows)
Peel shrimp if necessary, removing the tail.
Split down the back so that you are left with even, flat halves of shrimp.
Combine ingredients from shrimp to cilantro and refrigerate for two hours. The acid in the juices will 'cook' the protein in the shrimp. If you don't prefer raw ceviche, par-cook the shrimp briefly to get some doneness in them before marinating in the acid.
When the seafood has had sufficient time to cook in the acid, place in a bowl and serve with the tostones and mojo. A salsa cruda would also work here as well; just make sure to balance the sour flavors from the juices with some sweet flavors somewhere in the dish.
Tostones
3 ea. Ripe plantains
Oil for frying
1 Tbsp. Kosher salt
1/2 tsp. Ground cinnamon
1/2 tsp. Black pepper
1/2 tsp. Sugar
Combine the dry ingredients and store until needed. This blend also works great on fried yucca root
Peel and cut the plantains on the bias into ¾ inch chunks
Smash them between two pans or with a tortilla press until they are quarter-inch thick.
Remove and if you want to clean them up, cut with a circle cutter to make more uniform. Otherwise just leave them au natural.
Fry them in hot oil (350F) until they are brown but not too dark and remove to cool.
When ready to serve, deep fry again in 360F oil until golden and crispy. As soon as you remove them, sprinkle with the cinnamon-salt-sugar mixture.
Mango Coulis
Makes 2 cups
1 Mango, pureed
Citrus juice, as needed
1 Tbsp. Olive oil
1/2 ea. Red onion, minced
3 cloves garlic, minced
1-inch ginger stem, peeled and finely minced
2 tsp. Brown sugar
Cilantro, to taste
Combine the puree and juice and set aside.
In a fry pan, heat the oil to medium and add the onion, garlic and ginger and cook for about six minutes. Cool.
Combine all ingredients well and check for seasoning, adjusting as necessary.
Allow to sit for at least an hour for flavors to mesh and check for seasoning again, adjusting as necessary.
Run it through your Vitamix/ blender for a nice smooth consistency.
— Paul Suplee is the owner of boxcar40,
boxcar on main, boxcar crafted events
and sportfish catering.
www.boxcarrestaurants.com