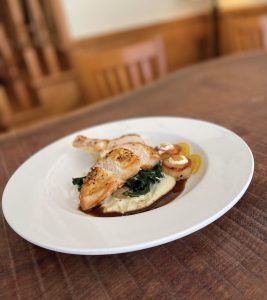 By Paul Suplee,
MBA, CEC, PC-3
So, there's a lot going on here. As I prepare to fly out to Las Vegas for a competition (a career milestone should I prove successful), I go through my notes again and again. With only two more weeks left for preparation, I suddenly realize that it is time to get moving.
I wake up nervous pretty much every day, and quite honestly cannot wait for this chapter to be over with. The prep on this project has been massive, and only time will tell what will happen.
As my team and I just took over the food and beverage service at the OC Marlin Club, I have enough on my plate, but the gods don't care about timing. It's do or die time.
The competition is for the National Chef Educator of the Year award through the ACF (American Culinary Federation).
The prep work includes a multi-tabbed lesson plan and many practice rounds. Having completed about 60 percent of the plan, and trying to get the club up and running at the level of my restaurants, my head is swimming. But, God hates a coward so away I go.
The class that I decided to mimic is American Regional Cuisine, one of my favorites to teach. The region is none other than "Foods of the Chesapeake." It only seems natural. The lesson discusses various foods and cultures across the shore to our beautiful ocean.
Naturally I had to choose chicken, the ubiquitous protein represented by the local landscape speckled with chicken houses.
For a choice of a second protein, I went back and forth between oysters and scallops, the former being a bay shellfish and the latter being an ocean shellfish. I settled on scallops in order to represent the ocean, which plays a critical part in our ecosystem as it meets up with the Chesapeake.
All in all, I am quite pleased with the dish. There are a lot of components, and I know I'll catch grief from some readers on yet another too-detailed recipe. But that's alright.
It's a great dish and there are many little nuances and techniques you might learn going through it. And at the end of the day, isn't it all about perpetual learning?
Seared Airline Breast of Chicken
serves 2
1 ea. 2-3# Whole chicken
3 c. Brine (recipe follows)
Seasoning blend
Clarified butter, as needed
Fabricate the chicken by removing the wishbone and then the breasts. Keep chilled while you make the preparations below.
Reserve the other meat on the bird for other purposes. The carcass will be used to make a rich broth, which will then be reduced for the demi (see below).
Place the breasts in a bowl and cover with the brine. Refrigerate for three hours.
Remove from the brine and pat dry, setting aside (chilled) until ready for service.
Season the breasts and heat the oil to just below smoking. Sear the breast and either turn the heat down to finish in the pan or place them in the oven to finish.
Cauliflower Puree
Makes about 1 1/2 quart
½  head cauliflower, core removed
1 1/2 c. Chicken stock
1 1/2 c. Heavy cream
Trimix, as needed
Cut the cauliflower into small pieces, and place in a lidded sauce pan with stock and cream.
Bring to a low boil, turn down and simmer, covered, for about 30 minutes, or until it is completely tender.
Run a stick blender through the pan, or blend in a Vitamix until smooth.
Season and keep warn until service.
Eastern Shore Greens
Serves 2
3 c. Fresh greens (kale, collards or Swiss chard)
Clarified butter, as needed
2 Tbsp. Good quality white wine
6 ea. Confit garlic cloves
Salt & Pepper, as needed
Combine everything except for the garlic and bring up to a high heat.
Cook quickly and once the greens are cooked but not olive drab, remove from heat and add the garlic cloves.
Season and keep warm until service.
Scallops
serves 2
4 ea. Large U10 dry sea scallops, cleaned of side muscle
Salt & Pepper, to taste
Oil for pan searing
Pat scallops dry and keep them chilled while preparing other food.
Heat a pan and oil the pan.
Sear the scallops until nice and golden brown before turning.
Once you turn them, remove from heat and allow the pan to finish the job.
Lemon Beurre Blanc
Makes about 1 1/2 quart
1/2 c. Dry white wine
1/4 c. Heavy cream (40% is ideal)
1/2c. Cold butter, cut into cubes
Juice of 1/2 lemon
Salt and pepper, as needed
Reduce the wine by half and add the cream.
Reduce this until it becomes thick and yellow.
Remove from the heat, and add the butter chunks one at a time until it is incorporated.
Once all the butter is incorporated, add the lemon juice and season to taste.
Garlic Confit
makes about 1 pt.
2 c. Fresh garlic cloves
Olive oil, to cover
Cover the cloves with the oil and place on a low heat and let it go for hours, until soft. Do not lLet it fry, as that defeats the purpose.
When tender, remove and cool. You now have garlic oil and tender, sweet cloves to use across the menu.
— Paul Suplee is the owner of 
boxcar40, boxcar on main,
boxcar crafted events and
sportfish catering.
www.boxcarrestaurants.com