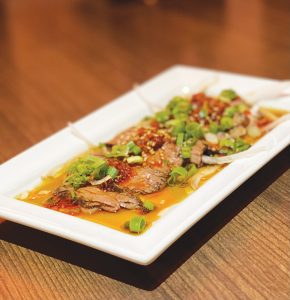 By Paul Suplee, MBA, CEC, PC-3
The beautiful thing about Japanese food is how simple it can be.
Despite this, though, the flavors are so profound that it makes it seem impossible that things could be so easy. But, they can be.
With that being said, the frustrating part of writing about "simple" Japanese dishes is that the recipes are typically short.
Ergo, the onus is on me to make up the remaining balance of this nine hundred word essay. And yes, I did spell that out to take up a little bit of copy space.
But, we've gotten off topic here.
After a recent food tour of New York, I sat back and reflected on the wonderful food that I had enjoyed. Cuban, Mexican, Vietnamese, Chinese, Italian et al all made the list.
During my almost exactly 26 miles of walking through Manhattan over a two-day period, I spent my time between meals planning my return trip, making notes to explore other cuisines: Brazilian, Jamaican, Nigerian and so on. It is a different world In the Big Apple.
I made sure to try New York's famous John's Pizza in Greenwich Village (recommended by a friend who has lived in the city for decades), and, of course, I had to go to a couple Cuban spots, as they were conveniently located a block and a half from my hotel.
Breakfast on my first day of trekking was a hearty plate of Mangu (boiled and mashed plantains) with fried cheese, over-easy eggs and pickled red onions.
While I did not finish all of the stick-to-your-ribs plantains, it was a good and plentiful repast to start a day of endless walking.
As I was in New York, I, of course, had to stop at a prime steakhouse (don't ask me why; even I can't answer that question).
While the meal was perfectly executed, it was a steakhouse. They sell and serve steak. That was about it. So, after a little more travel from east to west, I ran across a Japanese restaurant that looked enticing.
The hostess gave me a wait time of 45 minutes, took my phone number and I left for a little stroll around the block to see what was in the area.
When my table was ready, I quickly made my way back to the restaurant and was seated promptly. Given the menu, and given the fact that I had already eaten lunch, I opted for an assortment of small plates.
Of all of them, my favorite had to be the grilled skirt steak, served chilled with a yuzu-chili dressing. I have had this quite a few times before, and I have attempted to make it myself, but rarely does it rival what I can order in a good Japanese restaurant.
Regardless, I ate it in a mere few bites, as I did the remaining small plates, and made my way down the street to my next culinary adventure.
As I was meeting dear old friends of mine in Chinatown, I had a great deal of territory to traverse, so I made my way south through Chelsea, Greenwich and then over to Canal & Centre.
Stopping in a shop known for its dumplings, we ordered a few variations and had at it. As would be expected, they were delicious, and it was time for yet another stop a few blocks north in Little Italy — dessert.
Tucked into an outside table, the three of us split a tiramisu, a limoncello cake and cannoli with the obligatory espresso or in my case a machiatto.
Knowing that I had about 40 blocks to walk after dinner, I hardly felt a twinge of guilt as I gulped down more carbs than I have in months.
It's all in a day's work, my friends. It's all for the cause.
Armed with some new ideas for menus, I quickly jotted down notes upon returning to the hotel, but this Japanese beef dish keeps popping into my head. The crunchy garlic Rayu on top of the chilled beef marinated in yuzu is simple, perfect and wonderful for a summertime snack.
You don't need to travel to get it, but it sure does make things taste better.
Chilled Skirt Steak, Yuzu-Chili
serves 4
1 lb. Skirt steak
1/2 c. Shoyu or low-sodium soy sauce
1 Tbsp. Rice wine vinegar
1 Tbsp. Yuzu juice
1 Tbsp. Crushed garlic
2 tsp. Crushed ginger
1 Tbsp. Brown sugar
White stems from 2 scallions
4 Tbsp Crunchy garlic Rayu (can purchase online)
Julienne sweet white onion, as needed
Sliced scallions for garnish
1. Trim any fat from the skirt steak and set aside until ready to marinate.
2. Mix shoyu, vinegar, yuzu, garlic, ginger, brown sugar and smashed scallion whites in a pan and bring to a simmer only long enough to dissolve the sugar and allow the flavors to get to know each other.
3. Allow to cool and pull out about 1/4 cup to chill for service.
4. Marinate the steak in the remaining deliciousness for about four hours.
5. Remove and grill to medium rare, remove and chill until cooled all the way through.
6. Once it is completely chilled, slice the steak thin on the bias and shingle them on individual plates.
7. Toss the onions with the broth that we set aside and place that on top.
8. Garnish with Rayu, scallions and toasted sesame seeds and serve with chopsticks.
— Paul G. Suplee is an Associate Professor
of Culinary Arts at Wor-Wic Community  College.
Find his ePortfolio at www.heartofakitchen.com.