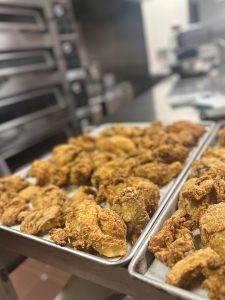 By Paul Suplee,
MBA, CEC, PC-3
I love a good steak, but let's be honest for a second.
If you know anything about me, you are aware that if I were stuck on a tropical island and only had one protein to eat for the rest of my life, I will hope that said island bore a resemblance to Hawaii with her toppled chicken coops and wild poultry running afoul. Or is it a-fowl? My apologies. It may be too early for that.
I do love chicken in all its glory, from their eggs (humane) to the less humane usage of their tenders, breaded breasts and succulent, grilled thighs. And does anything beat a fresh roasted chicken stock simmering away on the stovetop?
There is just something about this incredibly versatile protein that I can't get away from. Chicken Pho is always a classic, as is the ever ubiquitous, although if I had to guess not traditional in the least, Lemon Chicken. That was probably my favorite as a child when we would eat at Szechuan Gourmet in Cape St. Clair.
The owner always knew what I wanted, and why wouldn't it be the perfect pairing with its lemony, sweet sauce on fried chicken bits? It was literally fried chicken and lemonade, just about anyone's favorite summer snack.
Today was day one in our food production class at UMES, and we broke down chickens. This teaches students the value of knife skills, as knives cut meat, and we are all made out of… well… meat. So cautiousness is needed and taught throughout the program. Chicken is a good place to start and teaches our young wards the value of patience and caution.
Usually, I have the students fry, grill and roast the chicken, but we had a technical glitch, so we were able to get away with just the fried and baked. We will grill some next week for good measure.
But for now, we will stick with fried chicken, a favorite in our area, presumably due to the presence of poultry giants in our midst. Chicken is everywhere down here.
And who doesn't love it cold the next day at a picnic or on a boat when fishing? For those of us who love to spend countless hours offshore, we all know the value of that bag of fried chicken from our local spot that (we believe) will bring us good fortune.
There are a couple of secrets when it comes to good fried chicken.
First, it is incredibly simple, and most people overthink it. Second, it is all in the seasoning and breader mix. Adding some cornstarch helps to give you a crispy finish, a necessity in a proper product. Beyond that, the seasonings are what you make of them.
In the recipe, I wrote seasonings of your choice, as some people prefer to lean toward traditional (garlic, onion, paprika, salt and pepper) and others prefer to use seafood seasoning. Personally, I like to mix it up a little bit. I will start with all the above and maybe add some blackening spice, always a favorite. It truly is up to you.
The important thing is to take a small piece of chicken, bread it and then fry it to taste the seasoning, adjusting as necessary. Using this tester is key in ensuring that you don't cook an entire batch of earth-shatteringly bland and mundane chicken. Always try your breading until you have the flavor and crunch that you want, and then write it down and set it in stone.
So a toast, to never being stranded on a desert island, but if it happens, may wild chickens be always at my side.
Eastern Shore Fried Chicken
makes 8-10 pieces
1 ea. Roaster chicken, broken down into 8 or 10 pieces
2 c. Buttermilk
2 Tbsp. Seafood Seasoning
3 c. AP Flour
½ c. Cornstarch
5 Tbsp. Seasonings of your choice (see body of article)
oil for frying, and we all know which one is the best
When I write about 8- or 10-way chicken, it merely means how far I'm going in breaking the bird down. For 8-way, the spine is removed and each half is cut into breast, wing, thigh and drumstick. To make it 10-way, simply cut the breast in half, allowing each piece to cook in a much closer timeframe. It is completely personal preference
Put the chicken, buttermilk and seasoning in a container large enough to hold it all
Toss until evenly coated and press down
Place in the icebox for at least an hour and preferably two to three
When ready to fry, start heating your oil
Put flour, cornstarch and your chosen seasonings in a large bowl and drain the chicken
Toss in the flour mixture and allow to sit for at least ten minutes, tossing regularly. The longer you let it sit, the crispier it will be. Make sure that the chicken is not sticking together
When the oil has reached 350F, start frying your chicken until it reaches an internal temperature of 165 Fahrenheit
If you have a small fryer, which most people do in their homes, simply fry each batch until golden brown and crispy and place on a baking pan
Bake at 400F until cooked throughout. Remember, we do not want medium rare chicken, so use thermometer if needed
Drain and serve
Paul Suplee is the owner of Boxcar40 in Pittsville
and senior lecturer of culinary arts at UMES.