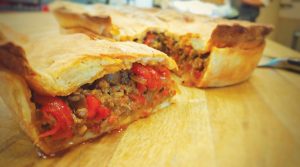 By Paul Suplee,
MBA, CEC, PC-3
Reprint from Sept. 29, 2022
When you think of empanadas, do you think of tasty hot pockets?
That was always my assumption, as they were the only "empanadas" I had ever seen, some made with wheat flour and some with masa.
Traveling through Mexico and Costa Rica over the years, they were somewhat ubiquitous, and man were they delicious. Whether made from beef, pork or chicken, there was a resounding theme of, "Oh, you've had a few drinks? We have just the thing for you!"
And along comes one of my favorite classes to teach, Latin American, and I get my ear bent on the topic.
For the textbook, I was able to bring in Gran Cocina Latina by Dr. Marisel Presilla, and it is literally the bible of Latin cuisine. It is an amazing book, as evidenced by my copy falling apart.
The beauty of the book is in the details, stories, folklore and techniques of many cultures from Mexico to Central and South America to the Caribbean.
And while I revel in the thought of cooking everything in this book, it is a thick tome and it would take me years to get through it, but we're getting there.
Many years ago, in fact the first year that I adopted the book, when we hit Empanadas, I figured it would be a day of hot pockets and boy was I wrong.
Technically while the below recipe is not the empanada that we think of, Dr. Presilla argues that it could be a empanada due to the fact that it is a meat filling wrapped in dough.
But, if you ask me, this is one of the most glorious pot pies I have ever made, witnessed being made or eaten in my lifetime. This is an amazing rendition of meat in dough.
As you read through this, understand that this is not a copied recipe, although very close. It is a variation on a theme, as I like to put it, but all the credit goes to the book's author.
And if you are a reader, and you are serious about food, this book needs to be on your bookshelf, nightstand or wherever you may keep your books for easy access.
I have never read a book on the subject so well-researched and understood by the author. And when you do get down to business and make this, make sure you taste along the way.
It is rather amazing how the flavors develop and enrich the finished product.
This is the very definition of layers of flavor on flavor on flavor.
So go make some pie dough and a filling that would put your abuelita to shame.
Venezuelan Pot Pie
serves 8
Dough
3 1/2 c. AP flour
1 1/4 tsp. Salt
1/3 c. plus 1 Tbsp. Confectioners' Sugar
1 1/2 c. Butter
1 large egg yolk beaten with 1 Tbsp. Cold water
Mix the flour, salt and sugar and cut in the butter.
When it is at the consistency of cornmeal, add the water and mix well, but do not beat it up.
Place on a lightly floured surface and knead it just enough to come together.
Form into a ball, wrap in plastic, and place in the icebox for at least an hour.
Filling/Final Preparation
2# Ground beef, shredded chicken or ground pork, your choice
2 Tbsp. Good unsalted Irish butter
1 med. Yellow onion, finely diced
1 leek, trimmed to the white part and finely diced
4 cloves fresh garlic, diced
1 med. Carrot, diced
1 med. Red bell pepper, diced
8 ea. Roma tomatoes, peeled and diced
4 ea. Serrano chilies, seeds and ribs removed and finely diced
1/2 can tomato paste
1/2 c. Dry white wine
juice of 1 lime
2 Tbsp. Brown sugar
2 tsp. Smoked Hungarian paprika
1 Tbsp. Trimix (Because you can never have too much)
1/4 c. Coarse stone ground mustard
Make sure that your protein of choice is fully cooked and set aside until you finish the rest of the filling.
In a large pan, heat the butter and allow to cook until most of the foaming has subsided. This will cook the milk solids and start the dish out with an amazing layer of flavor. I'm pretty sure the classically trained French chefs among us are shaking their heads in disdain, but for once just break protocol. Get wild
Add the onion and leek and cook for about 5 minutes.
Add the garlic, carrot, bell pepper, roma tomatoes and serranos and cook them down. Your house will smell wonderful at this point.
Once the liquid has mostly dissipated, add the tomato paste and cook until it takes on a burgundy hue, making sure not to burn anything. It can be a bit of a trapeze act, but I have faith in you.
Add the wine, lime juice, sugar, paprika, trimix, mustard and your protein of choice and mix well.
Adjust the seasoning and set aside.
Cut the dough in half and roll both pieces to overlap a pie pan.
Place the bottom piece in the pan, pressing it in and then add the filling.
Top with the final piece and bake in a 375F oven for 35-50 minutes, depending on the oven.
When the crust is done, this delightful dish is done, as everything is cooked anyways.
Paul Suplee is the owner of Boxcar40 in Pittsville
and senior lecturer of culinary arts at UMES.