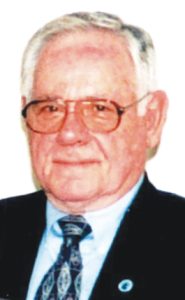 Dr. Francis A. Ruffo Sr.
Ocean Pines
Dr. Francis A. (Frank) Ruffo Sr., Age 90 formerly of Ocean Pines, Maryland, passed away on Sept. 9, 2022 in Sarasota, Florida.
Frank was born Nov. 18, 1931 in Frostburg, Maryland, to the late Samuel J. and Mary Ruffo.
He was the eldest of three children, a brother, Ronald Ruffo of Crownsville, Maryland, and a sister, Janet Bittner of Meyersdale, Pennsylvania.
Dr. Ruffo graduated from La Salle High School in Cumberland, Maryland, in 1949 and Frostburg State Teachers College in 1953.
He earned a Master's Degree in Guidance and Personnel (1958) and a Ph.D. in Administration and Supervision (1974) from the University of Maryland, College Park.
On June 26, 1954 Frank married his college sweetheart, Dotty, daughter of the late Patrick and Ruth Shertzer, at St. Patrick's Catholic Church in Cumberland, Maryland.
The couple was blessed with three loving children: Francis A., Jr. "Tony" (Christine) of Salisbury, Carrie Ruffo-Miller (Andrew) of Annapolis and Melissa "Missi" Thompson (Robert) of Ocean Pines.
He was dearly loved by his 10 awesome grandchildren: Jake, Joe (Liz), and Jenna Ruffo; Mary Kate, Meghan, Kellie and Kevin Miller; Rachel Mason (Dan), Bobby and Nicholas Thompson as well as his two great-granddaughters, Bridgette and Caroline.
Dr. Ruffo was appointed superintendent of Schools for Worcester County on July 1, 1978 and held that position until his retirement in 1990.
During his tenure as superintendent, Worcester County Public Schools were recognized state wide for excellence in education.
Frank was presented the Outstanding Educator Award by the Maryland Association of Elementary School Administrators in 1989 and the Frostburg State University Lifetime Alumni Achievement Award in 1986.
Prior to his appointment as Worcester's School superintendent Ruffo began a distinguished professional career in Prince George's and Anne Arundel counties serving as a teacher, counselor, pupil personnel worker, assistant principal, principal, director of Secondary Education, and assistant superintendent of schools.
Before beginning his career in public education, Frank served in the U.S. Navy from 1953 to 1955 as a gunnery and deck officer aboard the USS Witek, EDD848.
Dr. Ruffo was a member and/or officer of numerous state and local commissions and organizations.
He served on the Board of Directors of the Choptank Electric Cooperative, the Ocean Pines Association, the Community Foundation of the Eastern Shore, and Atlantic General Hospital.
He also served on several Worcester County commissions including Economic Development, Mental Health and Addictions, and the Commission on Aging.
His service at the state level included president of the Public School Superintendents Association, president of Phi Delta Kappa (National Honorary Society for Educators), and life member of the Maryland Congress of Parents and Teachers.
He was also a member and past president of the Berlin/Ocean City Optimists, the Knights of Columbus, and the Sinepuxent American Legion Post #166 in Ocean City, Maryland.
Frank was a true family man and devoted to his wife of 68 years.
In retirement, he spent many active and wonderful years with the love of his life in their beloved Venice, Florida home.
He enjoyed golfing, reading, spending time with family and socializing with their tight knit group of friends in Venice.
In lieu of flowers, the family requests donations be made to the "Dr. Francis A. Ruffo Memorial Scholarship Fund" at CFES.org/donate or mailed to Community Foundation of the Eastern Shore, 1324 Belmont Ave. Ste. 401, Salisbury, Maryland 21801.
For service information, please see www.burbagefuneralhome.com.