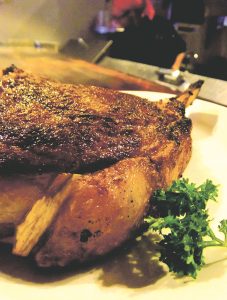 By Paul Suplee,
MBA, CEC, PC-3
Reprint from July 31, 2014
It was the best of times, it was the worst of times, it was the age of wisdom, it was the age of foolishness, it was the epoch of belief, it was the epoch of incredulity, or mayhap it was simply the season of plagiarism.
The muddled thoughts of my mind make it difficult to discern what has been stolen and that which is unique.
As it stands, I am wrestling with what could be the greatest culinary day of my life.  The triumvirate of taste.  The mêlée of meal-esque monsters.  I am not in L.A.; I am not in New Orleans, that city about which I have written much on my culinary travels.  No; I am in Kansas City.
Strolling through the wily streets of Missouri during the ACF national convention, a friend of mine and I happed upon a butcher shop / bar with a façade reminiscent of Baltimore in the 80s.
An old brick grocery store from 1898, it had all of the potential that most of us dreamers find existential.  As my luck with finding great vittles isn't always spot-on, I wasn't expecting much; just a quick bite.
As I write this with a most whimsical curl of the lip and a spritely smirk, we are now in day five of our visit and we have eaten there every night since the outset.  The aptly named Anton's Taproom has won a place for which I will be forever grateful.
Just a few things come to mind: a waterfall that runs through copper pipe in the floor of the beer garden to cool down the hot water that's coming off the compressors in the basement. It cuts the water utility bill by 70 percent.
Tilapia tanks in the basement whose water is cycled through the hydroponic herbs served on the sizzling steaks.  Meat curing in many nooks and crannies throughout the establishment.  A dry-age locker with meticulous record-keeping monitored by the owner himself.  There are 57 beers on tap.
Did I mention the best bone marrow I've ever had; two nights in a row?  Also there are Amanda, the tournant who cuts every dry-aged steak to order on busy nights, Brian who spends his days in the basement crafting charcuterie, Will and Jason who run the pass to make sure that the vision of the owner is carried out, Lauren the bartender who remembered our food and drink preferences from day one and sold us the menu from top to bottom, and Anton himself.
The electric bill for all lighting fixtures is less than $400 per month.  Anton managed to install geothermal heating and cooling, even further reducing the carbon footprint of this amazing place, and when the day is done, we ask about what's being discarded; a staggeringly minimal three yards per week.  And to top it off, the steaks are perfect.
As a former operator, to me it's more about what this man and his team are accomplishing.  But I would be doing a great disservice to Kansas City, Mo. if I didn't write about the other two stops that made this the perfect food day.
After all, I set the teaser, and must now deliver.
We finally ate lunch at Oklahoma Joe's BBQ after much prodding by our colleagues.  I have never had better burnt ends and ribs, and last week's article may now be laid to rest; I am ashamed of my BBQ and have work to do.
Finally, we were directed to a candlelit basement speakeasy; an establishment where Al Capone frequented, and one that took us on a snipe hunt that made us 30 minutes late for our reservation.  The bartenders were so well versed in their craft that I asked them if they had extensive culinary training.  The complexity of the cocktails still has my mind reeling.
But the lunch and aperitif portions of our day only set the stage for Anton's; they were the supporting acts.  I was amazed.  I was inspired.  I was moved to the point of stealing from Dickens.  Sometimes it's hard for me to put into words the emotions that come from a simple plate of roasted bones.  But there was so much more to that plate, and I do know that another trip to Kansas City is in the cards.
Dry-Aged Steak, Anton-Style
2 steaks
2, 25-ounce bone-in rib eyes
salt and pepper to taste
Bone marrow butter (recipe follows)
Allow steak to sit out at room temperature for about 30 minutes.
Season the garbage out of steak since it will be so thick. Much of the seasoning will fall off during the grilling process.
Grill to taste and top with marrow butter.
Bone Marrow Butter
makes 2 cups
1 1/3 c. salted butter
1/3 c. roasted marrow and drippings
Roast the bones that have been opened by your butcher to get a great bark on them.
Once roasted, scrape the marrow, fat and any drippings. Set aside.
Soften the butter by whipping at low speed in a stand mixer with a paddle attachment.
Combine the ingredients and serve as-is or season more with black pepper and herbs.
Keep chilled for up to one week or frozen in small chunks for up to six months.
— Paul Suplee is the owner of boxcar40, boxcar on main,
boxcar crafted events and sportfish catering.
www.boxcarrestaurants.com