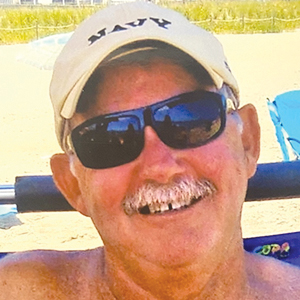 Edgar Norman Jones Jr.
Ocean Pines
Edgar Norman Jones Jr., age 71, of Ocean Pines, Maryland, slipped away on Jan. 3, 2023 at UMMC in Baltimore.
These last years of Norm's life were challenging, but he met them head-on with the gusto and spirit for life by which he was known.
Born in Annapolis, Maryland, and raised in Eastport, he is the baby brother of the remarkable Jones team.
With his devastated wife, Diana, he is survived by his son, Edgar N. Jones III (Shannon), and his grandchildren, Macie E. Jones and Edgar N. Jones IV, all of whom he deeply cherished and adored.
Norm was predeceased by his parents, Edgar N. Jones Sr. "Wimpy" and Marybelle "Mutt," and he is also survived by his sister, Geral Parks-Lisi (Richard); and brothers, James Michael Jones (Bobbi) and John Frank Jones (Mary Ann).
Norm served proudly in the US Navy on the USS Coral Sea during the Vietnam War.
From a long fire service family line, he followed his father and brothers into and retired from the Annapolis City Fire Department as a firefighter and paramedic during the early development years of Maryland's Emergency Medical System (Shock Trauma).
Having lived in Maryland, Florida and Tennessee, he finally settled in his beloved Ocean Pines, working hard and playing hard at Berlin's GlenRiddle Golf Course until he no longer could.
Norm was positively thrilled with an ocean fishing trip with his son this last birthday, a dream fulfilled.
His enthusiasm was infectious; he never met a stranger, and he loved his family, friends, children and animals as they loved him.
Jokester and trickster that he was, he was also funny, impulsive, honest, smart, intuitive, thoughtful, creative, kind and generous. He treasured great fun, good food, and a helluva house party.
Norm lived life thoroughly and never missed an opportunity to take you on that ride with him. His soulmate, Diana, was his rock; and Norm was her rocket.
A celebration of his life will be held at 11 a.m. on Friday, Jan. 20, 2023, at The Links at Lighthouse Sound Golf Course, 12723 St. Martin's Neck Road, Bishopville, Maryland 21813, with a lite fare reception following.
In lieu of flowers, gifts and donations in Norm's memory may be made to The Church Mouse, a thrift shop and local outreach, P.O. Box 429, Berlin, Maryland 21811.
Your "Stormin' Norm" stories and memories may be shared using the Memories tab on the page: https://kalasfuneralhomes.com/obituaries/Edgar-Jones,Jr.-9263.