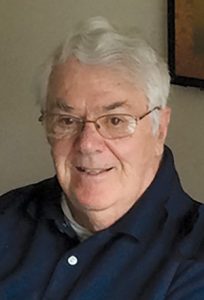 Edward Hurd
Ocean Pines
Edward H. Hurd of Ocean Pines, Maryland, passed away on Monday, Jan. 9, 2023 at Coastal Hospice, Stansell House in Ocean Pines.
Born Nov. 10, 1930 at Mountainside Hospital in Glen Ridge, New Jersey, he was the son of the late Francis C. Hurd and Josephine Hurd of Montclair, New Jersey.
He is survived by his wife of 53 years, Johanna M. Hurd of Ocean Pines, Maryland; daughters, Christina Harrigan, of Berlin, Maryland, Lauren Wieghorst of Shelburne, Vermont, and Amy DiTullio of Big Sky, Montana; and five grandchildren, Gavin Harrigan, Johanna Wieghorst, and Drew, Anthony and Dominic Di Tullio.
Ed graduated from Montclair High School and earned a BA degree from Upsala College in East Orange, New Jersey.
Upon Graduation from Upsala, he served in the Army during the Korean conflict and received an Honorable Discharge.
A Celebration of Life service is planned for Feb. 18, 2023 at 3 p.m. at the Community Church of Ocean Pines in Berlin, Maryland.
In lieu of flowers, gifts in memory of Edward H. Hurd may be directed to: Coastal Hospice, P.O. Box 1733, Salisbury, Maryland 21802; or Community Church at Ocean Pines, 11227 Racetrack Rd, Berlin, Maryland 21811.
Arrangements are in the care of Eastern Shore Cremation and Funeral Service, 504 Franklin Avenue, Berlin, Maryland 21811.
To send condolences to the family, please visit www.easternshorecremation.com.