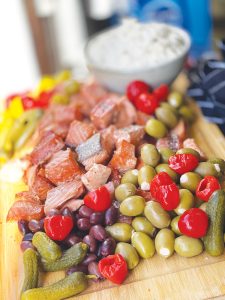 By Paul Suplee, MBA, CEC, PC-3
You know that I love smoking fish. I love eating smoked fish, and I especially love opening the smoker at that magical moment, knowing that the deed is done.
There is something absolutely stunning about a properly smoked chunk of fish.
When I was a wee lad of only 16, I worked at a crazy place in Annapolis — Key West Shipping Company.
It was a great place, although the management would be considered a tad too renegade by today's standards.
Let it be said that I learned more about life at that ripe young age than I should have. Man, that was a fun time.
We had a 700-pound Southern Pride smoker (I have a 300-pounder in Pittsville now), and back then we didn't need to wait for a blue marlin to be tail-wrapped during the fight: They were caught and sold like other fish.
Nowadays, most captains will keep a marlin only if it dies during the chase, even though they could be kept legally on the regular.
But the practice of catch-and-release seems to be much more prevalent these days.
To be fair, I can buy Pacific pole-caught marlin and smoke it, but that will cost me about $35 a pound, so it isn't even close to feasible from a wholesale-to-customer standpoint.
So, I must wait for friends and customers to take advantage of my smokers and let me get to work.
Years ago, we spent some time on Kauai, and as you can only imagine, we ate out almost every meal.
I personally don't understand why I would travel to another land (let's face it; it is not the states) and then cook for myself in my condo. No, I want to go where the locals go.
When I go to Costa Rica or The Bahamas or anywhere else, the same thing applies.
My only variance to this rule is when McDonald's sells Loco Moco, and of course I have to order it one time to make sure that it is not, in fact, Loco Moco. But, who am I to judge?
So on to the North Shore of Kauai we traveled, the night after an underwhelming birthday meal at a celebrity chef's restaurant (that recurring theme is a tad tedious, isn't it?).
We ended up at Hanalei Gourmet, the wonderfully rhythmically named café, and lo and behold they had smoked blue marlin on the menu.
Now, the smoked blue marlin was one of three smoked fish on the platter that day, and I asked a strange request of our amazing server.
Me: "I know this is going to sound weird, but we are from Maryland and they don't like us to keep marlin and smoke them, so I haven't had it since the late '80s.
Is there any way that I can get two plates of the smoked fish special, but all marlin?"
Server: "uhh, I'll check, brudduh." [2 minutes later]: "We got you."
And all of a sudden, as though out of a dream, I had six little stacks of smoked blue marlin.
I still love the fact that they made little stacks instead of putting it all together. It's the little things in life that make me happy.
And since that day – the day on which I relived my love of smoked marlin — I have preached on the power of smoking this and bluefish alike.
But I was awakened recently but another astonishingly simple yet amazing smoked fish: candied salmon. Yes, it's a thing.
Think candied bacon, and you will understand where I'm coming from. Mind blown.
Academy training down the drain. I am but an eternal student in this silly culinary universe. Candied Salmon; who knew?
Candied Salmon
makes about 3 pounds
3-pound filet fresh salmon, skinned
1 lb. Brown sugar
½ lb. Kosher salt
1 c. Authentic maple syrup
Cut the salmon into 2-inch cubes and place in a bowl.
Add the sugar and the salt and combine well.
Cover and place in the refrigerator for at least 6 hours. If you use more salt, you will want to shorten that time so it is not too salty. However, with more sugar, and the name of the dish being "candied salmon," let it sit.
Stir a few times to make sure that the fish is evenly coated.
When the sugar has finished its work on the salmon, remove and rinse with cool water and pat dry.
Allow to sit uncovered in the icebox overnight, or for at least 8 hours. This creates the pellicle, which is the tacky surface to which the smoke will adhere.
I like my candied salmon to be hot smoked, while some prefer it to be cold smoked. You do you.
Set the smoker to 275 and place the salmon in there with some hickory.
Water down the maple syrup just enough to make it easy to coat the chunks quickly. Over the period of the smoke, brush the chunks down with the syrup.
Cook until it was a lovely dark color and the salmon has fully firmed up.
Remove and cool completely and serve. This needs no sauce, in all honesty. It literally is candy and one of the best uses of salmon that I have run across. And of course, it makes a wonderful addition to any charcuterie board.
— Paul Suplee is the owner of boxcar40,
boxcar on main, boxcar crafted events
and sportfish catering.
www.boxcarrestaurants.com