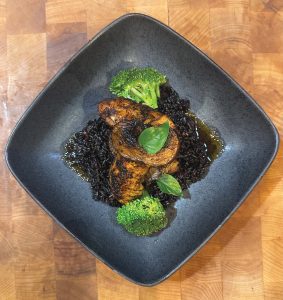 By Paul Suplee,
MBA, CEC, PC-3
Today I'm going to take it easy on you. This is an easy recipe but, of course, it all starts with the ingredients.
One of my all-time favorite grains, nay, my favorite grain, is black or forbidden rice. A meaty (umami) grain that stands on its own whether made with water, meat stock or vegetable stock with mushrooms, it has a flavor that is unsurpassed in the grain game. As we all are eternal students, I just learned why the rice is black (or deep purple). Apparently, it is extremely high in anthocyanin, the devilish antioxidant so high in blueberries and eggplant skin. Who knew? Well, now we all do.
So, before we get started, you should do your research on acquiring some forbidden rice. The best way to buy it is to go online and buy in bulk. If you buy a 1-pound bag, it costs a bloody fortune, but if you buy an 11-pound bag, it comes in at around $3 per pound. Since this is dry weight, the cost is not terribly inhibitive for you and your guests.
The beauty of forbidden rice is threefold in its taste, mouthfeel and versatility. It is bold enough to stand up to meats and seafood, and easily used as part of a vegetarian or vegan menu. Standing on its own, the flavor is rich for a grain, and it marries well to just about any flavors. At one of our favorite restaurants in St. Augustine, it was served with seared rare tuna, fresh wasabi (totally different from the powdered stuff) and fava bean puree. That was my first introduction to forbidden rice a couple years ago, and I have been a fiend about it ever since.
Two of my little trade secrets that really aren't secrets anymore are the use of shallots and dried exotic mushroom blend (I didn't use that in this particular recipe, but I'm just sharing a little tip). The latter has anything from morrells to chanterelles to porcini and so on. When macerated in simmering water, they transform your swamp water into a meaty, savory broth. They add so much to any finished dish, and they are worth exploring as well. If you can just find porcini powder or dried porcinis, that will certainly suffice.
While I will never claim that this dish is overly healthy with its heavy dose of butter, I will vouch for its simplicity and flavor. Sometimes, I need a quick and easy dish to cook for the family and this is well-suited for that.
At the end of the day, shouldn't we have new dishes in our lives to broaden ourselves? My girlfriend gave penne alla vodka a go a couple weeks ago, and it was a smash hit. That's what we all need to do — experiment, practice and learn. Then, it's nothing but simple muscle memory followed by delicious food. Delicious and easy.
Blackened Chicken on Forbidden Rice
serves 4
6 oz. Chicken breast or chicken tenders per person
1 stick unsalted butter
2 Tbsp. Paul Prudhomme Redfish Magic Seasoning
6 oz. Sliced mushrooms
2 c. Cooked broccoli
Herbs as garnish
4 c. Forbidden rice (recipe follows)
It is always recommended to marinate your chicken breast. The white meat of yard bird dries out more quickly than thigh meat. Use your marinade of choice and allow to rest in it for about an hour.
Drain chicken and pat dry. Heat butter in a pan.
While the butter is heating, toss the chicken in the seasoning (generically referred to as blackening seasoning).
Cook in the pan for 4 minutes on the first side, ensuring that they are evenly spaced in the pan. If you have to work in batches, do so as too much will crowd the pan and you won't get that beautiful color that your chicken so rightfully deserves.
When you turn it over, add the mushrooms and cover with a lid. The mushrooms will get a lovely crisp on the first side which will soften as it cooks with the lid on. Layers of flavor, people. Layers of flavor.
After a few minutes, remove the lid and give a stir. Lower the heat to almost off and allow this to finish cooking. With the lid on, more of the juices will stay in the pan for plating.
Assemble with the forbidden rice and vegetables, and garnish with your green herbs and a drizzle of the chicken juices, butter and fond scrapings from the pan
Forbidden Rice
Serves 4
2 Tbsp. EV Olive Oil
2 Tbsp. Finely minced onion
1 Tbsp. Finely minced shallots
1 Tbsp. Smashed or finely minced garlic
2 c. Forbidden rice
4 c. Chicken stock
Heat the oil and saute the onion and shallots for two minutes.
Add the garlic and cook for a minute, stirring regularly and making sure that it does not burn. If it does, toss it out and start over.
Add the rice and cook for about two minutes to get a little bit of a toast on it.
Add the chicken stock and bring to a boil.
Lower the heat, cover with a lid and cook for about 30 minutes.
The rice will still have a bite to it, but make sure that the water is absorbed well.
Keep warm until ready to serve.
Paul Suplee is the owner of Boxcar40 in Pittsville
and senior lecturer of culinary arts at UMES.