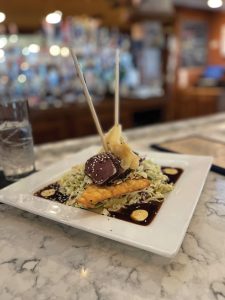 By Paul Suplee,
MBA, CEC, PC-3
I always feel like a kid when I get the phone call or text message that goes something like this:
"Hey, brother, if you can get down to Pirate's Cove by 4 a.m., we're leaving the dock to hunt some bluefins. Let me know."
Having happened just this past weekend, it is still fresh in my mind.
After about 14 seconds of in-depth consideration, I responded with an emphatic, "I'll be there in four hours." As I pack light, I was on my way to Manteo in less than 30 minutes.
And so it goes when someone asks me to go fishing this time of year in the Outer Banks, something that is incredibly hard for me to pass up, especially when talking about bluefins.
Those things are monsters, and the process at the Wanchese market is fascinating to watch, as the officials grade the tuna and determine whether it is staying local, regional or being sent in "the box" to Tokyo for auction.
The majority of my offshore fishing experience is in Ocean City, and obviously only in the late spring to fall, so when it's hot at the dock, it's hot out there.
It wasn't until last year that I fished a winter commercial trip in February out of the Oregon Inlet.
Bundled up as it was less than 30 degrees outside at the dock, I took a nap on the way out, and a mere 40-ish miles offshore, it was sunny and 75 degrees.
I was not prepared for that. Nor, was I comprehending it once it was explained to me.
You see, as the Gulf Stream passes up the coast, it brings with it the warm water so necessary for the fish to run, and with that comes warmer air. It is still fairly unbelievable and shocks me nonetheless.
As there was a nasty little storm rolling through this weekend, the sun did not warm us up tremendously, but it was still more comfortable than it was on the dock and our gear kept us plenty toasty and dry.
While we didn't catch anything of note, neither did any of the rest of the fleet that day.
There was a yellowfin or two but none of the sea monsters that we were after, despite marking them all morning. The storm was coming in from the south and it was fairly evident that the morning run was not going to yield anything.
We had one bite that took the ballyhoo and ran, but other than that, the fish were not coming up higher than 10 to 20 fathoms. But that is how fishing goes.
Thankfully, I still had some tuna from a previous trip as well as a good vacuum packer. There is nothing like being able to preserve the spoils of the hunt to enjoy when you are least likely to get more.
On a side note, if you do find yourself with a mountain of fish, make sure that you vacuum pack it and not just wrap or put in Ziploc bags.
While the latter is good for short-term frozen storage, only a vacuum packer can remove the oxygen from the package, thus not allowing the oxidation and freezer burn that so often accompany improperly frozen fish over the long term.
Hopefully there will be some more trips to OBX soon, but if not, summer will be here before we know it and it will be time to hit our docks once more.
Until then, I'll just have to wait impatiently for another text.
Tuna Tataki, Asian Slaw
serves 4
1# Fresh tuna loin
2 Tbsp. Japanese 7 Spice (recipe follows)
4 c. Asian Slaw (recipe follows)
4 Tbsp. Yuzu aioli (recipe follows)
4 Tbsp. Japanese BBQ sauce (Bachan's is great)
Cut tuna into four barrels.
Coat with 7 Spice and heat a pan with clarified butter.
Sear the tuna on the outside on all sides. It will be raw in the middle and seared on the outside.
Allow to rest for five minutes, then slice thinly and fan it out over a bed of slaw.
Japanese 7-spice
makes about 1/2 c.
2 Tbsp. Korean chili powder
1 Tbsp. Black sesame seeds
1 Tbsp. White sesame seeds
1 tsp. Szechuan peppercorns, ground
1 sheet nori seaweed, ground
1 tsp. Yuzu powder
1 tsp. Ground ginger
Combine all the ground ingredients and store in an airtight jar until ready to use.
Asian Slaw
makes about 1 quart
3 c. Shredded green cabbage or Napa cabbage
1/2 c. Shredded carrots
1/2 c. Shredded red cabbage
1/4 c. Whole cashews
For the dressing:
1/4 c. Mirin
1/4 c. Rice vinegar
1 Tbsp. Brown sugar
1" Fresh ginger, peeled and grated
2 Tbsp. Freshly cut chives or scallions
1 Tbsp. Sesame oil
2 Tbsp. Grapeseed or other mild oil
S&P to taste
Soy sauce, at the end to taste
Combine the dressing ingredients and set aside.
When ready to assemble, toss the dressing into the slaw mix and season to taste.
This can be made upwards of three hours in advance. The cabbage is sturdy enough that it won't wilt.
Yuzu Mayo
makes about 1/2 cup
6 Tbsp. Kewpie Mayonnaise
2 tsp. Yuzu powder
1 tsp. Wasabi powder
1 tsp. Mirin
1 tsp. White sugar
Combine all ingredients and allow to sit and come together for at least an hour.
— Paul Suplee is the owner of
boxcar40, boxcar on main,
boxcar crafted events and
sportfish catering.
www.boxcarrestaurants.com