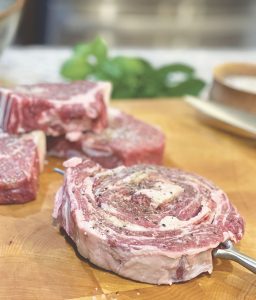 By Paul Suplee, MBA, CEC, PC-3
I pride myself on my lovely back yard. It is an insane amount of work, and this year as I will be doing all of it, it is even more overwhelming.
But, it is worth it when I get to relax in the swinging chairs. Granted, the bugs also come out this time of year, but that's alright. It's all for the cause.
The banana palms have grown much faster than I expected them to, their large leaves towering over the smaller plants in the beds.
Most people don't realize that these are just weeds, and once you have them, you will never get rid of them. They proliferate underground and their roots shoot out in all directions, so from one healthy plant you could have twenty offshoots the following summer.
The house sat empty for a number of years before we purchased it, and I have been told by multiple people that they used to come in the back yard and take some of the young shoots home for their own garden.
That is just fine with me, as I definitely have plenty to contend with at present.
Outfitting the tiki bar with a new-to-me merchandise refrigerator, it is the perfect place to keep the sparkling water, beer, bottled still water, white wine and beer.
By the time summer is in full swing, everything will be fully stocked and ready to roll. While the pool is open, it is holding at a nice frigid temperature. It is rather brutal, but jumping between there and the hot tub is a welcome activity.
Last year, I worked on the entry way to the house, and the front is now looking fairly presentable, notwithstanding the Sanford & Son junkyard that is being amassed by my kids.
I guess collecting old, beat up cars is a healthy habit. That's my story and it's easier that the alternative which could end in stroke or seizures.
With the first dinner party under our belts, I figured it was time to write about the steak that I cooked. For many of the banquets that I've served, I've removed the rib loin cap, and broken the eye of the ribeye into two long, fat-free tubes almost resembling a beef tenderloin.
These can be grilled and finished in the oven whole, or they can be broken down into steaks and cooked as you normally would.
Since I already had some steaks that I broke down and froze months ago, I pulled them out and got to work. Removing the cap (spinalis dorsi) left me with some lovely eyes of the ribeye.
These grilled spectacularly, and the cap (spinalis) was coiled up as mentioned in the recipe and grilled up.
If you are a fatty-part-of-the-steak kind of person, as my girlfriend is, this steak is a little chunk of heaven. It has tremendous flavor and bite and it will give your fat-loving fiend exactly what they want.
I remember growing up in a house where my dad and one brother would eat every scrap of fat off peoples' plates. Boy did they love that.
Not me. I am a sissy beef tenderloin or skirt steak kind of fellow. Or give me the eye of the ribeye and I can eat that all day long.
It is worth a short, and definitely worth perfecting your skills with breaking down the whole loin. Either way, the rib loin is one of the most flavorful parts of the cattle, and it rarely disappoints.
At the end of the day, the steaks were perfect and the party was a success. And now on to the next one.
Grilled Rib Cap
serves 4
2# spinalis dorsi (rib loin cap)
4 Tbsp. Whole unsalted butter
3 cloves fresh garlic
Salt & Pepper to taste
Juice of ½ lemon
If you cut the cap off individual steaks, you can roll them together like a cinnamon roll. Roll them up and secure them with two metal skewers, or a high-quality kitchen fork as pictured.
• If you are using the whole cap, simply clean fat off and season and grill that puppy up.
For the basting butter, melt the butter and add the garlic, salt, pepper, lemon juice and an optional touch of blackening seasoning
Baste the steaks and grill to the temperature of your liking.
I prefer to pull mine off around 122F and allow them to rest for about 10 minutes. This allows the meat to relax and become tender again.
Slice and serve along with your favorite sides. In our house, asparagus and mushrooms always wear the champion belt.
Sauteed Mushrooms
serves 4
4 c. Sliced baby bella mushrooms
2 Tbsp. EV Olive oil
2 Tbsp. Whole unsalted butter
1 tsp. Fresh thyme leaves
3 cloves fresh garlic, smashed
juice of 1/2 lemon
1 c. White wine
Clean off the mushrooms if needed and set aside until needed.
Heat the olive oil, butter, thyme and garlic in a pan until the garlic. is fragrant but not burnt.
Throw in the mushrooms and cook until softened, about four to five minutes.
Add the lemon juice and shite wine and continue to cook until most of the liquid is absorbed. It is always good to have a little bit of liquid left, but you don't need to have it soupy.
Serve with the steak and asparagus.
— Paul G. Suplee is an Associate Professor of Culinary Arts
at Wor-Wic Community  College.
Find his ePortfolio at www.heartofakitchen.com.