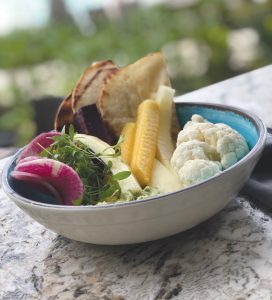 By Paul Suplee, MBA, CEC, PC-3
(Reprint from Aug. 8, 2019) I sit in the hotel lobby in Florida watching the torrential downpour and listening to the crashing thunder as the windows all rattle.
This is a big storm, and they definitely had the forecast correct. All I can say is that I am glad that I am here for a convention, and not down here with my children braving the onslaught that we all know and love as Disneyworld.
Oh, Disney, that magical place where every ride ends in a huge gift shop, the smell of waffle cones wafts through Main Street while being ubiquitously absent in the ice cream shop itself, and children give their parents a run for their money. A buddy of mine drove to the convention with his wife and three children, hit Disney for the first time ever, and it only took them four hours to run out of cash. It's all by design.
Walt Disney was speaking in the 1960s to a group of businessmen, and he noted (and I paraphrase), "Everything in this park is for sale except for the buildings and the sidewalks." He was a shrewd man.
Personally, I have never cared for Disneyworld, being a cynic and seeing it for what it is. But, truth be told, I have had many friends go as adults (sans children) and have had a tremendous time. Whether it's eating and drinking their way around Epcot or skipping the Dumbo ride in favor of the more exhilarating ones, they swear that it is a different park without the tykes.
Regardless, a trip to Disney is not on the docket this go-around. It is almost time to get back up north and jump into the White Marlin Open to win that big money. And if you haven't seen anything about the tournament this year, they hit a world record $6.1 million in prize money with over 400 boats.
Even for the world's largest billfish tournament, that is a staggering amount. With any luck, our sponsored team will bring in a cold, hard $2,000,000. I mean, someone has to win it.
So as my heads swims with these numbers, the reminisces of nightmarish Disney trips and this insane storm, I dip a piece of raw beet into an amazing herbed hummus. I love hummus, and I cannot for the life of me tell you why I don't have it on the menu at the restaurant. Yet
It is incredibly easy to make and while I call it the perfect summertime dish, it is fantastic any time of year. But the best part of serving this in the summertime is grabbing some beautiful heirloom vegetables from a local farm such as Chesterfield Heirlooms to serve on the side.
Dipping a fresh, raw baby carrot in your homemade hummus is incredibly satisfying. Wheels of watermelon radish act as a dipping chip of sorts, and the earthy flavor of the raw root complements the rich hummus perfectly. It doesn't take a genius to know that it ends up being one of the healthiest dishes most of us will eat in any given week.
For me, I love how satiating it is, high in protein and minerals from the garbanzo beans. Top that with the bread and vegetables, it's a fairly well-rounded complement to your cooking arsenal.
And it is incredibly easy to make. This is one of those dishes that is pretty hard to screw up. In this recipe, adding the parsley and chives will add a tiny touch of water, so you may have to play around with that if you find that it is messing up the consistency of the end product. Or, you could use the freeze dried ones that are now sold in the produce section. These aren't exactly my favorite, but they will work in a pinch. I'll let you decide which ones you want to use.
The monsoon is dying down now, and pretty soon it will be time to head back to some of the educational highlights. This year's lineup has been good so far, and there are some impressive speakers tomorrow.
And then it's back to the real world of Ocean City, and, of course, the teaching grind. Time does not stand still for anyone, does it? Oh summertime, I'm already counting down the days until next summer.
Herbed Hummus
makes about 1 quart
1 15-ounce can garbanzo beans
Juice of 1 lemon
3 cloves oil-roasted garlic
2 Tbsp. olive oil from above garlic
1/4 c. Tahini
2 Tbsp. Fresh parsley
4 chives
Salt & Pepper, to taste
Place everything in the bowl of a food processor and blend until smooth, scraping with a rubber spatula
When ready, simply serve with raw vegetables, pita or naan bread
Top with any or all of the garnishes listed below. On a side note, I intentionally left cumin out, something that is common in many hummus recipes. I find that cumin is overused and for me it tends to get obnoxious, making everything taste like an Ortega taco kit. This is a personal preference, so please use it at your discretion
This is an absolutely amazing summertime dish. In fact, I'm not sure why I don't have it on the menu. Mayhap that will happen when I get back from Florida
For garnish
Paprika
finely chopped roasted red peppers
Roasted garlic, minced or smashed
Olive oil to drizzle on top
fine lemon zest
Paul Suplee is the owner of Boxcar40
in Pittsville and senior lecturer
of culinary arts at UMES.