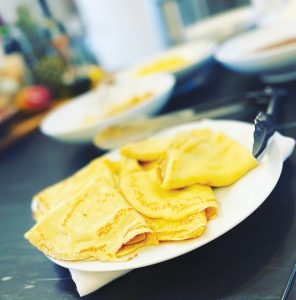 By Paul Suplee, MBA, CEC, PC-3
If you are a food nerd, then I would recommend that you read whatever you can by Michael Ruhlman.
The man knows his way around culinary lore and wisdom in a way that far-outpaces most contemporary chefs.
He is the ultimate student of food, and as such has made a life of continued growth and examination.
One of my favorite works by him is Ratio: The Simple Codes Behind the Craft of Everyday Cooking, a volume that discusses… you guessed it… the basic ratios of many given recipes.
For example, cookies have a ratio of 3:2:1 of flour to salt to sugar. Bread is 5:3 of flour to water. And crepes?
Oh, sweet crepes (or they may be savory as well, depending on their ultimate application), they come in at 2:2:1 of milk to eggs to flour. As you can see, ratios can come in rather handy when you just want the basics and otherwise don't want to follow recipes to a T.
Crepes have always been fascinating to me, and I loved making them for the kids when they were younger, and you can do so many things with them.
One might make some sweet fillings such as homemade assorted pastry creams, crème Chantilly, fresh berries, assorted syrups and the like.
Or, if you are feeling enchanted, as the French would say (if they were in fact going to say it in English) you could forego any sugar and vanilla and make these light and stretchy wrappers and fill them to your hearts content.
Sauteed crab with brie and apple would be lovely, as would spinach and artichoke with Gruyere and Boursin cheese. I could list fillings for an eternity, so suffice it to say that it can be left to your imagination and creativity.
Last year, we catered a brunch at a magnificent estate south of Salisbury for now-friends, and the hostess wanted crepes.
I was surprised to learn that my ex-girlfriend (we catered a great many events together) had never had crepes, and no judgment as there are plenty of foods that I have not tried in my lifetime.
And out of all the functions that we had catered over the years, it struck me that I had never served crepes as an option.
I found that strange, as I grew up with them, cooked them fairly regularly for my kids and late wife, and now? I probably had not made them in four years.
What a shame, seeing as how everyone loves crepes, sans the gluten-free crowd. And now that I write that, I wonder if some of the gluten free flours would work for these. But I digress.
Fast forward to the day of the event. Our lovely hostess had an electric crepe griddle, making the whole experience even better as the automatic temperature settings would just about ensure that none would be burnt.
I showed Dawn how to make them, and after I botched one and then she botched one, she got it down pat. I was grateful for the help, as I tend to oversell specialty menus and there was still a great deal to do.
And if you know anything about crepes, they take time and patience, two things of which I had very little that morning.
To the rescue, she became like a mad scientist, hammering out crepe after crepe and the brunch went off without a hitch. And as for you, once you make crepes, and you may destroy a few in the learning process, they can easily become a mainstay in your repertoire.
They take about 10 minutes to make, and that includes melting the butter and gathering the ingredients.
They are that simple. And now you have the ratio. What time should I come over for brunch?
Sweet Crepes
Makes about a dozen crepes
using the 2:2:1 ratio
8 oz. Fresh eggs
8 oz. Milk
4 oz. AP flour
dash salt
1 Tbsp. Melted whole butter
2 Tbsp. Granulated sugar
1 tsp. Vanilla
Combine the eggs, milk and flour in a blender and blend until well homogenized.
Add the melted butter and remaining ingredients. You want to run this on medium to high to ensure that the butter is sheered throughout the batter. It will resemble a thin pancake batter.
Place in the icebox for one hour (some say this is not necessary due to the ultra-refinement of modern flours, but I still do it to allow it to relax).
Heat a non-stick pan on medium (don't get antsy and go high or you'll have an uncontrollable pan and burnt crepes) and add pan spray.
Add just enough batter to coat the bottom of the pan as you swirl it around.
Allow to cook and if there is excess batter on top, take a rubber spatula (the high heat kind) and gently pull the edge of the crepe away from the pan, leaning the pan so as to allow the batter to hit the hot pan and cook.
When the crepe is mostly cooked through and seems firm enough, flip it with the spatula or with your incredible chefly crepe-flipping skills.
Cook for 30 more seconds and then remove to a plate, folded into quarters.
Cover the crepes with a clean kitchen towel to keep them toasty while you finish the batch.
Serve with fillings of your choosing.
— Paul Suplee is the owner of boxcar40, boxcar on main,
boxcar crafted events and sportfish catering.
www.boxcarrestaurants.com