Kenneth Francis Buckley
Ocean Pines
Kenneth Francis Buckley, 72, of The Parke in Ocean Pines, Maryland, passed away on April 17, 2022, at home surrounded by his significant other of 10 years, Joan Twigg, and his immediate family.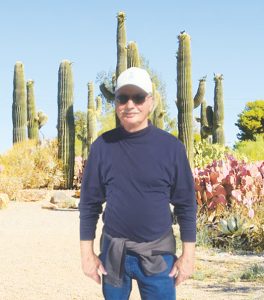 After a courageous two-year battle, he succumbed to a rare biliary duct cancer.
Ken was born on Sept. 11, 1949, in Boston, Massachusetts. He was the eldest child of the late Robert and Helen (nee Oatway) Buckley.
Upon graduating from Charlestown High School, he entered the U.S. Army. He served two tours of duty in Vietnam and returned to the Ft. Meade, Maryland, area in 1970.
He transitioned to civilian employment with the U.S. Army (DOL/NSA) and retired after 41 years of service.
Ken and Joan relocated to Ocean Pines in 2015 and Ken quickly secured a seasonal position at Eagles Landing Golf Course, a job he truly cherished.
He was an avid sports fan all his life, especially all teams Boston, however, he did remain loyal to Tom Brady!
A lover of many sports, he played ice hockey, and men's softball, and coached his son's Little League teams. His favorite sport was golf even though he started later in life.
Ken and Joan both enjoyed the sport equally, taking every opportunity to play together often and play wherever and whenever they traveled, making for some fantastic memories.
Additionally, he enjoyed spending time with his children and grandchildren during holidays and trips to the beach.
Ken is survived by his daughter, Patricia McGrath (Steve) of Annapolis, Maryland; his son, Christopher (Monica) of Millersville, Maryland; and his five grandchildren, Reagan and Corinne McGrath, Madison, Brayden and Carson Buckley, and their mother/grandmother, Jeanne Reilly of Severna Park, Maryland.
He was preceded in death by his wives, Tonja Buckley and Peggy McClure, and son-in-law, Michael McGrath.
The Buckley family wishes to extend their most heartfelt thanks to Coastal Hospice and the staff of Johns Hopkins Oncology Department.
Memorial donations in his name may be made to CoastalHospital.org/make-a-donation/ or AssateagueIslandAlliance.org.
A Celebration of Life will be held on May 7, 2022, at The Parke at Ocean Pines Clubhouse. It will be a casual affair serving his favorite foods: cheeseburgers and pizza, per his request!
Arrangements are in the care of Eastern Shore Cremation and Funeral Service, 504 Franklin Avenue, Berlin, Maryland 21811. To send condolences to the family, please visit www.easternshorecremation.com.