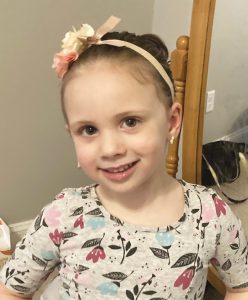 Lakelyn Ashley Draheim
Bishopville
Lakelyn Ashley Draheim passed away peacefully at her home in Bishopville, Maryland, on Jan. 13, 2023, after a yearlong battle with DIPG, an aggressive form of pediatric brain cancer.
Lakelyn was born in Salisbury, Maryland, on June 28, 2017, to her parents, Lauren and Lance Draheim.
To her family, friends and teachers, Lakelyn was known as a passionate, creative and loving little girl who loved to dance, paint, camp, ride four-wheelers, go to school, cook with her Daddy, bake with her Mommy, and play with her brothers, Lawson "Bubba" and Levyn Beau "L.B."
She often said that when she grew up, she wanted to be a dancer/ballerina/4-wheeler rider/deer hunter/hair dresser, a list which was constantly growing.
When Lakelyn wasn't cheering on Lawson in sports, she enjoyed going camping in Williamsburg, Virginia, Disney World and at Jellystone Campground in Lincoln, Delaware.
Some of her family's favorite memories are of making S'mores and playing Charades around a campfire.
At home, she loved to work on puzzles, read, play school and watch her favorite shows, including "Sleeping Beauty" and "Bluey."
Lakelyn was kind, intelligent and a beacon of light to everyone she encountered.
She would often style her friends' hair, do their makeup, paint their nails and always wanted people to feel better when they left her.
Her infectious smile drew people in, her giggle would bring instant joy to everyone she met and her touch would soothe any broken heart.
She is survived by her parents, Lance and Lauren; her brothers, Lawson and Levyn Beau; her grandparents, Eugene MaGee, Eddie and Sally Draheim; her aunts and uncles, Robbie "Bobo" Draheim, Brian and Rebecca "Boppy" Benson, Lenny and Kelsy Draheim, and Hunter and Shannon Draheim; and her cousins, Tripp Benson, Sterling, Amelia, Paxleigh and Brook Draheim.
Lakelyn was preceded in death by her Momom Dolly MaGee; and her great-grandparents, Carlton and Dollie MaGee.
In lieu of flowers, the Draheims are asking that you consider donating to The Cure Starts Now, an organization dedicated to putting an end to Childhood Brain Cancer, in Lakelyn's Honor using the link, https://p2p.thecurestartsnow.org/1846.
Viewing and visitation: Friday, Jan. 20, 2023 from 6-8 p.m. and Saturday, Jan. 21, 2023 from 11 a.m. to 1 p.m.
at Showell Elementary School, 11318 Showell School Road, Berlin, Maryland 21811.
Funeral Services will begin at Showell Elementary School on Saturday, Jan. 21, 2023 at 1 p.m.
Condolences may be sent by visiting www.bishophastingsfh.com.