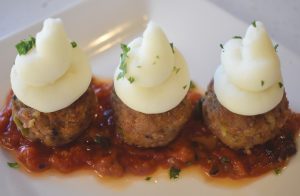 Reprint from Oct. 26, 2018
(Oct. 20, 2022) Is there anything more comforting than mouthwatering meatloaf and fluffy mashed potatoes? If you agree, read on.
Confessions come in many flavors. Willpower was once my best friend, but we have parted and gone our separate ways. It is for this reason I refuse to glimpse at my trusty mirror; days of primping and praise have become a figment of my imagination.
There was a time when a fat-free diet was my everyday menu, but this is no longer a reality. I cannot always say "no." But all is not lost, sometimes enlightenment crosses my daily path for better judgement.
Indulgence can be a good thing if it is served in moderation. Instead of preparing a whole meatloaf where temptation will get the best of me, I will make mini, bite-size meatloaf cupcakes with mashed potato icing.
Anticipation comes to the forefront as I start to prepare one of my favorite meals. Before I get started, allow me to share a few tips so you can enjoy the philosophy behind the making of meatloaf.
If one were to ask me what is the key to this dish, I would respond that every ingredient has a purpose and it is these particulars that make it so special.
Meatloaf is simple to make but do not be fooled by its straightforwardness. On that thought, let us start from the beginning.
Fat is imperative for fabulous meatloaf. It keeps the meat moist and tender. The combination of beef, veal and pork is your best bet and can be found in most supermarkets. If you buy meats from a local butcher, have him grind the meat twice for extra tenderness.
Meatloaf needs seasoning; do not skimp on the salt and pepper. Onions, garlic, celery, bell pepper and mushrooms can also add great depth to the dish.
Some cooks prefer to sauté their vegetables before combining it with the meat. I prefer to keep it raw, this way the natural juices permeate the meatloaf. However, vegetables should be sautéed when making mini meatloaf cupcakes due to the short amount of cooking time.
Bread crumbs or stale bread is the next topic for debate. If you decide to use stale bread you must soak it in milk or it will reduce some of the moisture in the meat. However, it is more difficult to distribute it evenly in the meatloaf mixture. This is why I think bread crumbs produce better results.
Most meatball compositions contain egg protein which adds solidity to the product. You will be surprised how many cooks skip this step. The size of the meatloaf will dictate how many eggs you need. Whisk 1 teaspoon of whole milk per large egg.
Brown or red gravy depends on personal taste. Sometimes if I want to upscale my meatloaf, I will make a wild mushroom gravy. Otherwise, I top the meatloaf with a tomato-based sauce.
Just like other types of meat, it is best to let the meatloaf rest before cutting into it. This gives the juices time to redistribute and settle.
If you slice into your loaf too soon, the juices will seep out, leaving you with a drier meatloaf.
Mini meatloaf cupcakes with mashed potato icing are a delicious meal for the entire family. If you are going to a Halloween party and want to take a dish, add a little orange food coloring to the mashed potatoes for a Halloween theme.
This recipe will make about 50 mini cupcakes. Remember, they are literally bite size. As you are cooking the mini cupcakes, you will not be able to top it with a sauce. Instead heat your base (tomato or brown sauce) with some of the drippings in a separate pan and serve it on the side.
In addition, you will need extra mashed potatoes for piping purposes. If you have just enough potatoes, it is more difficult to pipe. Enjoy!
Mini Meatloaf Cupcakes with Mashed Potato Icing
Ingredients
1 carrot, coarsely chopped
1 rib celery, coarsely chopped
½ yellow onion, coarsely chopped
4 cloves garlic
½ green bell pepper, coarsely chopped
4 baby portobellos, coarsely chopped
3 tablespoons extra-virgin olive oil
2 ½ pounds meatloaf mix (ground beef, pork and veal)
1 tablespoons Worcestershire sauce
1 teaspoon whole milk
1 large egg
2 teaspoons kosher salt
1 teaspoon black pepper
1 cup bread crumbs
cooking spray
2 (10 ¾ oz.) cans condensed tomato soup
10 cups favorite mashed potatoes
Preheat oven to 325 degrees.
Place the carrot, celery, onion, garlic, bell pepper and mushrooms in a food processor and pulse until finely chopped.
In a large sauté pan, cook vegetables for 3 minutes.
In a large bowl, gently mix the meat with the vegetables.
In a small bowl, whisk the Worcestershire, milk, egg, salt and pepper together. Add egg mixture to the meat mixture and gently blend using your fingers.
Pour in bread crumbs, gently mix with your fingers until combined.
Spray mini muffin pans. Cook meatloaf in mini muffin pans until thoroughly done. Temperature should reach 165 degrees. This will take approximately 45 minutes. Once they are cool enough to handle, transfer to a cooling rack.
In a medium saucepan over medium heat, combine tomato soup and drippings. Cook until the sauce is hot but not boiling.
Pipe each meatloaf cupcake with mashed potato icing. If cupcakes get too cool before serving, simply microwave them for a short time. Serve the sauce on the side.
Secret Ingredient – Influence. "We perceive and are affected by changes too subtle to be described."
– Henry David Thoreau