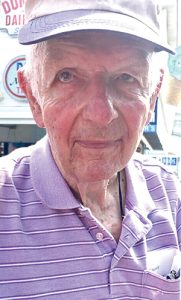 Michael T.S. Reilly
Meadville/Berlin
Michael T.S. Reilly, 86, known for his perseverance and one-liners – and his love of family, cookies, chocolate, college football, coffee and dark beer – succumbed to Parkinson's disease on Sept. 14, 2022.
He resided at Wesbury United Methodist Community in Meadville, Pennsylvania, and was formerly of Berlin, Maryland.
He was born in Manhattan, New York, son of William J. and Rosa (Strider) Reilly, and spent his childhood and teenage years in West Chester, Pennsylvania, with his aunts after Rosa's unexpected death.
Through his teens, Michael enjoyed farm life, hard work, and sports.
He played football and lacrosse at Lafayette College and graduated in 1958 with a bachelor's degree in civil engineering. He later earned his M.B.A. from Penn State.
He worked for various natural gas companies until retirement when he fulfilled his "dream job" as a bus driver for Ocean City, Maryland.
Michael reared his four children with the help of weary caregivers. He was a strong, supportive and faith-filled father. He also served as a father figure to many.
Preceding him in death were his wife, Adrienne; and daughters, Rose and Jill.
He is survived by immediate family: Sean (Sunny), Peg (Kevin), Ellen (Ernest), Giorgio, Scott (Maggie) and Dennis; and grandchildren, Bryant (Jenn), Courtney (Chris), Drew, Julianna, Owen and Grace; great-grandchildren, Andrew, Jaymee and Jaymes; and cousins, Kathy, Alice and Larry (Sherry).
Perseverance defined him, but his ability to listen and connect with others was remarkable, too.
He was lucid until the end even though Parkinson's robbed his speech.
Michael donated his body.
A remembrance picnic is forthcoming, but Michael would like everyone to celebrate and not mourn, much like he lived his life.
Many thanks to the staff at College Way, Wesbury, for his care.
Don't send flowers or donations, but reach out to an elderly person and spend some time with them.
Arrangements are under the direction of Waid-Coleman Funeral Home, 12422 Conneaut Lake Rd., Conneaut Lake, Pennsylvania, where memories and condolences may be shared at www.waidcolemanfh.com.