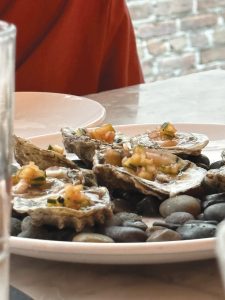 By Paul Suplee,
MBA, CEC, PC-3
Man do I love a good mignonette. Few things in life really offer the flavor explosion like this magical morphing of ingredients. Traditionally served atop raw oysters and clams (in fact, this is the only way that I personally will eat raw clams), the brightness of this liquid-amalgamation balances out the salty and rich succulence of raw shellfish in the most brilliant of ways. And adding other fresh, crisp bright ingredients only further exacerbates the sauce's intention.
A mignonette can be as simple as combining red wine vinegar, cracked pepper, shallots and a dash of hot sauce. That's it. It can be simple yet profound. But that is not what we are going for today. Well, I can't really say that. This recipe is incredibly simple, but the flavors will have your eyes rolling back in your head in delight.
By simply adding some summer flavors, you can even further brighten your mignonette. Think fresh cucumbers from the garden, mango, papaya and other summertime, island-inspired flavors and you are on the right track.
Last week I attended the latest American Culinary Federation conference in New Orleans, and we spent five days bouncing between the convention and, of course, the amazing foods of the Big Easy. This was my sixth trip down there, and it was the best one to date. The conference was one of the best that I can remember, and the educational seminars that I attended were quite interesting.
But the food of New Orleans. Oh, the food. There is no town in this country that even compares when it comes to the variety, spice and mystique of Nola. If I never set another foot in New York, I could be content. But the thought of any trip to New Orleans being my last would truly make me sad.
Unfortunately, they are experiencing the same strange season that we are up here. Restaurants are closed one and two days a week (some historical properties that have never done so before) and they can't find all the cooks that they need. It is so sad to see this happening, but it is industrywide.
Regardless, we navigated our way through town, hitting up Butcher for lunch on a couple occasions, watching the most amazing music in the world, and finishing up at a new haunt for us, Turtle Bay. This place is open twenty-four hours a day, and the food is great.
We ordered pizza and wings since that sounded fantastic at that time of night, but then we saw two beautiful ribeyes march past us and they smelled divine. They were easily 14-ounce steaks, and they were on special at OK on the bar tabs. I had told my girlfriend about musicians walking off the street and jumping on stage with random bands and we were lucky to witness that, as well. All in all, it was an amazing trip, and I solidified that five days in New Orleans is about all that I can handle.
So here I am, back up here readying a house to sell, cleaning the restaurant that I just closed and quickly consolidating things. I am finally at the age of downsizing, and that is a wonderful place to be. I look forward to life fast forwarding six months as no one likes to move. But once it's done it will be done and that is certainly something to look forward to. It's hard to travel with a low account balance, and as you know after all these years, I do like to travel more than anything.
But I digress. Let's get back to oysters. I can eat oysters every day of my life, and maybe that's not good for me, but I could. I have always loved raw oysters. Not having the brick oven in Berlin anymore, I may bring the traditional chargrilled oysters to my flagship restaurant and have some fun with that. Unfortunately, there is a high mortality rate among local oysters and they haven't figured out what's causing it yet. So, it may have to wait until September, but I can assure you it will be worth the wait.
For now, however, we'll find some oysters from our brokers and continue to have fun. Laissez les bon temps roulez!
Oysters Mignonette with a Twist
serves 4
24 ea. Oysters of your choosing
1 c. Mignonette (recipe follows)
This very well could be the shortest recipe that I've ever written. I know I have said that before but I'm pretty sure we're setting a land speed record at the moment.
Shuck the oysters and arrange on rock salt or small, clean pebbles as in the photo.
Top each one with the mignonette and serve. This does not need lemon or cocktail sauce or anything else. It is a completely self-contained dish.
Serve chilled
Mignonette with a Twist
makes about 2 cups
1 c. Good quality red wine vinegar
3 Tbsp Finely minced fresh shallot
a dash of your favorite hot sauce
1 Tbsp. Large cracked black pepper
3 Tbsp Fine diced cucumber
1 Tbsp. Fine diced mango
a pinch of sugar, or to taste
Combine all ingredients in a non-reactive storage container.
Chill and allow the flavors to meld for at least three hours.
Keep chilled until ready to use.
Paul Suplee is the owner of the
boxcar restaurant and is also
Senior Lecturer of Culinary Arts at UMES.
boxcarrestaurants.com