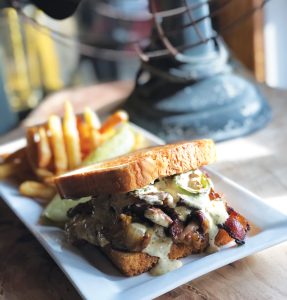 By Paul Suplee,
MBA, CEC, PC-3
This year is starting out right, or at least as right as it should be.
With a quick trip to Key West to hang out with some friends, and now another quick trip for a niece's wedding in Austin, it thus becomes time to gear up for the semester and make this one something special.
I'm now teaching full-time at University of Maryland Eastern Shore, and the resources and support for building out the program are second to none.
It has been wonderful to become a welcomed faculty member on the campus. In fact, I honestly can't remember a warmer welcome. I love the place.
This semester promises to be a good one, as I get to teach my favorite class: Garde Manger.
French for 'to keep what we eat' (loosely), it is a class about preservation, sauces, smoked meats, pickled foods and a sundry assortment of my favorite foods.
Not only are they my favorites, but the are incredibly relevant in today's market.
A close second class for me to teach is Asian Cuisine, followed up by Latin America; the flavors, smells and colors in each remind me daily of how much I'm grateful that I get to teach this stuff. But I digress.
Today, I'm going to talk to you about a great little sandwich that we've had at boxcar40 for years, and I don't think that I've ever written about it. Somehow, I'm not sure how I haven't written about it. Oh well, no time like the present.
I've been known to be a bit capricious in my earlier days, and I was steadfast in "do not … Ever …  mess with (perhaps not the language that I used) my staple items."
So, I was a bit surprised when my "little guy" in Pittsville suggested this masterpiece. It truly is the Mona Lisa of smoked meat grilled cheeses. As I've identified other foods in the past, it's stupid, it's so good.
It was created by a then-17-year-old named Michael, and it seemed only natural to name it after him (I believe that his middle name is Thomas).
This was a bold move by young Mikey T, as he dared to bastardize our lovely and popular brisket grilled cheese, still one of my absolute favorites.
And while there is the addition of other ingredients, what really sets this sandwich off is the Alabama White Sauce, a ubiquitous if not controversial sauce from, you guessed it, Alabama.
Created by one of the most racist people I've ever read about (that breaks my heart, because honestly, it's like a horsey sauce with a little mustard and vinegar added to it … and incredibly simple).
I serve it with smoked prime rib, most of the smoked dishes, notably the brisket, and of course Mikey T's Boom Boom. It just makes it a different sandwich, completely. It is almost transformative, as silly as that may sound.
I will let you look up the article in the "New Yorker" about the racist nature of the sauce, and I will leave it at that.
I will master a little redundancy in trying to give you its flavor: It's just like the horseradish sauce you might get with your prime rib at the Chart House or Gallagher's, but only with the addition of a little vinegar and mustard.
Oh, it sings to the heart of this sandwich. Well done, Mikey. Pretty work.
There are a few things that make this sandwich an exemplary of culinary exploration, to be sure.
First, the bread is critical. My God, you simply can't ignore the quality of the bread! We always use Crack of Dawn in Berlin, and for some reason, their sourdough is absolutely magnificent in a grilled cheese.
You may have to call them to find out when they are open for retail business, because that is limited, but, good lord, is it delicious.
The second, third and fourth items that make this sandwich are the meat, so get off your lazy duff and smoke some damn meat, the cheese (I prefer sharp cheddar, personally) and the sauce. Of course, the sauce.
Isn't that why we're here in the first place?
And if I didn't need to call it Alabama White Sauce I wouldn't, and maybe I'll start that soon.
It's just Horsey Sauce with vinegar and mustard. That is a long bit of descriptive copy on a menu, but it might be worth it.
Mikey T's Boom Boom Sammich
makes 4 sandwiches
Butter, as needed
8 slices fresh bread
4 slices cheddar cheese
1# Smoked brisket, sliced and warm
8 slices cooked bacon
2 jalapenos, roasted, seeded and diced
4 oz. Alabama White BBQ Sauce (recipe follows)
Melt the butter in a fry pan and add 4 slices of bread.
Top with the cheddar cheese.
Immediately top with the brisket, bacon and cook until cheese is melted.
Add the jalapenos and some Alabama White BBQ.
Assemble the sandwich and give it a press to bring it all together.
Cut on the diagonal and serve hot.
Alabama White BBQ Sauce
makes 3 quarts (cut it down as needed)
1/2 Gal. Duke's Mayonnaise
1 c. Crème fraiche
1 c. White vinegar
3 Tbsp. Granulated garlic
2 Tbsp. Ground black pepper
1 c. Coarse mustard
2 Tbsp. Sugar, granulated
2 tsp. Kosher salt
1 c. Grated horseradish
Combine with a whisk and store in large container.
— Paul Suplee is the owner of
boxcar40, boxcar on main,
boxcar crafted events and
sportfish catering.
www.boxcarrestaurants.com