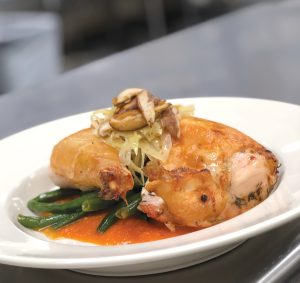 By Paul Suplee,
MBA, CEC, PC-3
Reprint from Sept. 19, 2019
Oh, what a day of skills last Friday was. "In my Introduction to Food Preparation" class, we covered a great many skills in one seemingly simple dish, and it was a stunning product after only having had one previous class.
Most of these students have never cooked before; most of them have never picked up a knife, and yet we were able to execute a dish that was worthy of service in a fair restaurant.
There are typically a few minor injuries, as students break down their first chicken. Knives slip, or students simply lose track of the blade and then it's time to toss the food and clean a wound or two. Hey, this business is not for the faint of heart.
At the end of production, it was quite satisfying to see the looks of pride and accomplishment in the faces of my new students.
Typically timid, my new batches of students somewhat shyly work their way through the kitchen, but not this group, and that is truly a breath of fresh air.
It is always a pleasure to look at a new group and know that we are going to make some memorable lunches for faculty and staff on Fridays.
As for the dish itself, I was able to incorporate a good number of skills in this lab.
The best part is that the class already has one of the five mother sauces down. Making a fresh tomato sauce (peeling the tomatoes, cutting them concassé and stewing them) was a good intro into this topic of foundational sauce making.
At some point, we will cover the other four: Hollandaise, velouté (think turkey gravy at Thanksgiving), Béchamel and Espagnole. It's all in a day's work.
And the cool thing, and this applies to any cook, is that once you know how to make these basic sauces, you have opened the door to making thousands of derivative sauces.
There are hundreds of classical derivative sauces, and with the contemporary fusion of cuisines, the sky really is the limit, or rather the span of your imagination and creativity will be the only limit on your sauce-making abilities.
As we sat down to eat, with guests from the business department and some straggler students that we reined in from the hallway, we knew that we were in for a treat. And the students did not disappoint.
We ate well that day. We will eat well all semester thanks for their production and skill levels. And yes, I will be able to teach this class more than just a thing or two.
In one class, I was able to teach blanching and shocking, sautéing, searing, a mother sauce, stewing, plating and a slew of other skills.
Indeed, it was a wonderful day and it bodes well for our semester.
Roasted Chicken
serves 4
1 whole 3-lb chicken
1 gallon brine (Recipe follows)
6 oz. Sautéed shiitake mushrooms (Recipe follows)
2 c. Stewed leeks (Recipe follows)
Tomato sauce (Find a recipe)
Sautéed green beans (Recipe follows)
Break the chicken down into 8 pieces
Place in the brine for 3 hours under refrigeration
Remove and pat dry
Roast in a 375F oven until it reaches 165F on its interior
Remove and allow to rest for a few minutes while you gather everything else
Serve 2 pieces per person and top with the stewed leeks and mushrooms
Brine
per gallon
1 gallon water
1 lemon, quartered
3/4 c. Kosher salt
1/2 c. Granulated sugar
1 Tbsp. Black peppercorns
1 tsp. Thyme leaves
1 tsp. Rosemary
1 Tbsp. Granulated garlic
Combine all ingredients in 1 quart of hot water to dissolve the salt and sugar
Add remaining ingredients and remainder of water to cool it down. You may also top it off with some ice to make sure that it's nice and cold
Sautéed Shiitakes
Serves 4
1/2 # Shiitakes, stems removed
1 Tbsp. Butter
1 Tbsp. Olive oil
1 clove fresh garlic, minced
S&P, as needed
Slice the mushroom caps
Heat the oil and butter
Sautee the mushrooms and season as needed
Stewed Leeks
Serves 4
4 each fresh leeks, sliced
Olive oil, as needed
White wine, as needed
2 Tbsp. Butter
S&P to taste
Heat the olive oil to a medium and add the leeks, cooking for about an hour. Ensure that they are stirred and that they do not burn
Deglaze the pan as needed with the wine
Add the butter towards the end of cooking and season
Keep warm until service
Sautéed Green Beans
Serves 4
1# Fresh green beans
Butter and oil, as needed
S&P to taste
Bring a pot of salted water to a boil and add the beans
Cook for about 5 minutes, or until the beans are al dente (tender but still with a bite)
Shock them in an ice water bath to stop the cooking and set aside until go time
When ready to serve, heat a sautée pan, adding the oil and butter.
Add the beans and cook until they are done
Season and keep warm until service
— Paul Suplee is the owner of
boxcar40, boxcar on main,
boxcar crafted events and
sportfish catering.
www.boxcarrestaurants.com