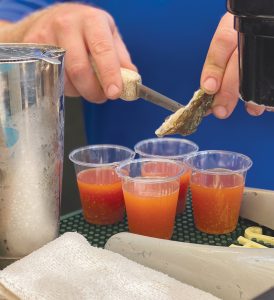 By Paul Suplee,
MBA, CEC, PC-3
Another summer is coming to an end, children returning to school and the dog days of summer and fever dreams caused by 100-degree-plus days fading into memory.
With only a couple of the famed deck parties left in the season, it is time to get them all in before the snow begins its blustery descent.
I know that the snow is a long way off, but drama sells. I have to say something that will keep you coming back week after week to read this claptrap.
One of my favorite deck parties is on Monday afternoons at The aLoft Hotel.
Sponsored by my dear friends at Old Bay Vodka, it has been fun to watch the party grow and celebrate this local brand. I beam happily as I think of them and all the friends I have who have succeeded locally, and as a result have now succeeded nationally and in some cases internationally.
That's a beautiful thing for our small area.
Alas, this weekly soiree will soon be gone, and we will all be wondering where the time went. I'm fairly certain that I am not alone in that regard.
With my fourth and youngest going into his senior year, I am astonished at the pace at which our lives proceed. Like most people, and dare I say older people, I would prefer it to slow down a little.
Of course, I am grateful for every moment that I am here as I have outlived a good many people in my own life and for that I am eternally grateful, if not confused as to any greater being's "grander plan."
Honestly, I don't know how I've made it this far, but I'll take it. I have not always been the smarter person in many a scenario.
But here we are, celebrating life and the successes of friends and family, that we may be so lucky as to also celebrate our own successes.
My apologies for getting a tad sentimental here, but it happens every year as I prepare for another year as a professor.
I relish in the fact that we can offer so much to our students while they offer as much if not more to us. I love the exercise of "teaching the teacher" with my teaching assistants.
Watching a second-year student teach a first-year student a few skills is inspiring, as we know it only helps to hone their own skills and make them a better cook, and eventually a better chef and manager. And therefore we teach.
Yes, the end of summer, as sad as it may be, is also a sign for a new chapter in every school year.
And this is why we should all meet on Monday at the pool bar for the deck party.
We meet to see each other, those of us in the industry and beyond, all knowing that we are visiting with friendly faces and good times.
If nothing else, it will be a salute to the end of summer and the start of the next chapter in our amazing novels.
In celebration of this, well… celebration… I figured I would write about my favorite shooter, that of the glorious Chincoteague Oyster.
It is a fabulous shot, of course assuming that you like raw oysters in the first place. There is nothing that says, "Hey autumn, come get me" even more than pumpkin spice than an oyster shooter.
Now, If I gathered 300 bartenders in an arena and told them to make me a standard Bloody Mary mix, I would have 300 quite distinct concoctions.
It's almost as bad as handing a recipe for chocolate chip cookies to a class of beginner bakers. If I have 12 students, I get 12 bizarrely different cookies. It's a mystery.
But, mystery or not, celebrate the months that end in "r", your friends, your family, your successes and failures, and above all else your luck. We're still here and there's a lot to be said for that. Now, go get a shot.
Oyster Shooters
4 ea. Fresh salt oysters
6 oz. Bloody Mary mix (recipe follows)
6 oz. Old Bay Vodka™
Shuck the oysters, ensuring that the oyster and juice goes into the glass.
Top off with Bloody Mary mix and vodka.
Sing a sad song lamenting the end of summer.
Follow with a happy song celebrating the return of autumn and the holidays.
Know that the school year, once it has started, is officially almost over. Summer is right around the corner again.
Tilt head back and take the shooter, making sure to chew the oyster to get all those glorious Chincoteague flavors.
Bloody Mary Mix
makes a little more than a pint
12 oz. Clamato
1/4 c. Green olive juice
1/4 c. Pickle juice
dash Worcestershire sauce
Juice of 1/2 a lemon
juice of 1/2 a lime
1 Tbsp. Grated prepared horseradish
1 tsp. Granulated garlic
1 tsp. Celery seed
1/2 tsp. Onion powder
1 tsp. Old Bay™ Seasoning
1 tsp. Coarse black pepper
1 Tbsp. Hank's Hot Sauce™
Combine all ingredients at least a day ahead of time. Since these are all cold or cool, they will take some time to come together to know each other well.
Allow it to sit in the icebox, removing as you are ready to make your shooters.
— Paul Suplee is the owner of boxcar40, boxcar on main,
boxcar crafted events and sportfish catering.
www.boxcarrestaurants.com