By Jack Chavez, Staff Writer
The Ocean Pines Volunteer Fire Department held a town hall on June 30 to discuss the upcoming renovations to the South Station.
A panel consisting of OPVFD President David VanGasbeck, OPVFD Chief Steve Grunwald and Gary Campbell, a public safety architect from contractor Manns Woodward Studios, anchored the gathering.
At the beginning of the meeting, Grunwald stressed how vital response time is in an age when homes and appliances in homes are built with materials that can enable fire to spread quickly.
Grunwald said it can take as little as five minutes for a fire to render a space unlivable from the time it is ignited.
"The importance of response is crucial when it comes to fires," he said.
In designing the firehouse, Campbell outlined several priorities to consider: first-responder health and safety; being sure the facility is recognized as a fire "house," as in people live there; providing decompression space m for firefighters to unwind after battling fires.
He also said the potential for growth must be considered along with establishing clear boundaries between public and private spaces.
Campbell said of the three basic types of firehouses — single-story, two-story and hybrid solutions — each has its unique characteristics and requirements. Ocean Pines is leaning toward a hybrid solution.
"We just do not have the acreage for the footprint they need in a single-story station."
The existing firehouse sits on a 1.34-acre property with 13 public parking spots, eight responder parking spots and three drive-through apparatus bays that exit directly onto Ocean Parkway.
The proposed design calls for new ADA-compliant parking and access at the public entrance, eight public parking spots, five responder parking spots, a new drive-through apparatus bay with a concrete response apron and four drive-through apparatus bays in total.
On the lower level, the department is aiming for six individual bunk rooms and additional room for future overflow, four or five bathrooms, a kitchen and dining area and a couple of administrative offices. All living spaces will be on this level.
The level will also include a decontamination area, which the station does not have. The inclusion of a decontamination area at the South Station would permit gear to be quickly cleaned after calls to hasten first responders' turn-around time.
The upper level will be accessible by stairs and elevator from the secure main entrance and include a training room, conference room, administrative offices and storage.
The exterior of the firehouse will feature a stone-base veneer with a cast-stone sill and cementitious siding panels.
The roof will be a standing seam metal roof. Openings include "high-visibility" bay doors and high-efficiency windows.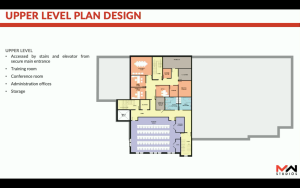 In April, after securing $1.35 million in state funding, OPFD officials estimated they'd need approximately $7 million for the project, with the Ocean Pines community footing about half of the bill.
The South Station, which was built in 1981 and totaled 3,200 square feet, had an addition in 1985 that included three apparatus bays and support areas totaling 4,200 square feet.
Lastly, in 1985 an additional 500 square feet was added to the site.
This story appears in the print version of the Bayside Gazette on July 7, 2022.