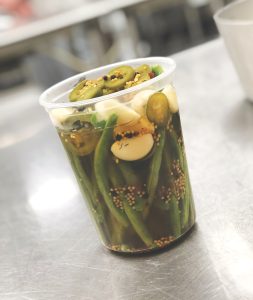 Reprint from Jan. 31, 2019
By Paul Suplee, MBA, CEC, PC-3
Temperatures in the teens, the polar vortex splitting arctic air into pieces that are saturating us with frigid weather, and firewood that just won't light despite every effort are all playing their role in this being a chilly morning in the homestead. [Pause]
OK, I was able to get the fire started and the room has that smoky hint, warming nicely. The weather a balmy 23-degrees outside, I am going to knock this out before I go to school to wrestle that gorilla.
For the time being I, like so many of you, am dreaming of warmer climes – of warmer days and of course of days in and on the water.
I reminisce of lovely trips last year to the Keys and New Orleans, and of upcoming work and military reunion trips both in Florida. Of course, the convention trip is in Orlando in August, so I imagine I will be shedding a few pounds in water weight down there. But the April trip to Madeira Beach to see some Marine buddies that I haven't seen in 26 years will be a welcome respite from The Shore.
Honestly, as long as I get to travel, the weather doesn't bother me one bit. I have always suffered from wanderlust, as you may well know if you have been reading these scintillating musings for more than a few months.
There is simply too much to see out there in this big, beautiful world to stay put for too long. And as much as the Eastern Shore has grown on me, and as much as this will more than likely be my home base for the rest of my tiny amount of time on earth, I still plan to see much, much more.
For me, it is not just "getting away" from responsibilities that does it for me. If it was, then staycations would be a regular thing for me. No,
I just know that I don't know what I should yet, and if I can see it, live it, experience it and then share it with my children and anyone else, than I have lived a pretty darn charmed life. Of course, this "charmed" life comes at a cost, hence working around the clock to build the war chest so that such extravagances can be afforded, but I digress.
One of my favorite trips is to New Orleans. I have been five times, and went last July for conference, being lucky enough to have my girlfriend accompany me. It was her first time to the Big Easy, and it did not disappoint.
There is just something about this ancient town, with its smells and sights, memorials and haunting cemeteries and of course the locals; vibrant and colorful in tradition, music, food and soul.
An incredibly diverse population lives in the French Quarter (our stomping grounds for the duration of the trip), and I have never been anywhere that is so invigorating and lovely, to be frank.
When middle school children can march down the street in unison as a rag-tag band playing better than some university marching bands, there is simply something unique and precious in that. Then again, I am a music person, so it could mean a great deal more to me than others.
As far as food and drink go, we ate everything from old school New Orleans (K. Paul's and Arnaud's) to new school (Longway Tavern).
Of course, we had to eat Beignets, but then it really is nothing more than overpriced funnel cake and we get enough of that down here, don't we?
However, from bar to restaurant, breakfast to dinner, even I was surprised at how ubiquitous the bloody Mary had become.
Not only that, but spicy pickled green beans were the required garnish, period. I don't remember them from my last trip six years prior, but I was not disappointed. Neither was Dawn, as we started asking for extras.
Something as simple as a pickled green bean was transformative. I guess you could say that it does for the drink what the Big Easy does for us.
It's just that certain something that we need to elevate ourselves – to learn a little more and to enjoy life, and to make us just a little bit better.
Pickled Green Beans
makes 1 quart
1 pound Fresh green beans, whole & snipped
2 cups White vinegar
1 tsp. Fresh dill
1 Tbsp. Yellow mustard seed
1 tsp. Crushed red pepper flake
1 whole jalapeno, sliced
6 peeled cloves fresh garlic
1 cup Sugar
2 Tbsp. Salt
Clean the green beans and set aside in a container that has the beans standing straight up, but with enough room for the remaining ingredients
Combine the remaining ingredients and bring to a rolling boil and remove from heat immediately
Adjust seasoning if you like, and then pour over the green beans
Ensuring that the beans are covered in liquid, cool them completely. Either can them (you can find procedures for that online) or vacuum pack them
If you have access to a vacuum chamber, you can start eating these on day two. otherwise, you're looking at a two-week wait before you dive in. They will be edible before then, but the will not be as good.
— Paul Suplee is the owner of boxcar40,
boxcar on main, boxcar crafted events
and sportfish catering.
www.boxcarrestaurants.com