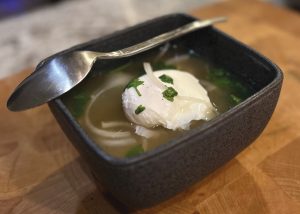 By Paul Suplee,
MBA, CEC, PC-3
Good Lord, can we please get rid of this disease-plagued era?
While COVID is finally weaning itself from the teat of most populations (I'm glad that we are not experiencing the patient crisis that some other nations are finally facing as we did in 2020), it is back with gusto but in a much milder form for most.
To top it off, I can't tell you how many people I know who have fallen out from the flu and this random stomach bug over the last two months. It's literally insane. A good friend has a sizable real estate practice in town, and over half of his office was out a couple weeks ago for one of the three aforementioned ailments. When is it going to stop?
Returning from Austin with one of my kids recently, we did so with the realization that we had the same or similar illness. Yet, he tested positive for COVID and I was negative the whole way through. I still stayed home (I didn't complain much) as prescribed and we worked our way through the mildest form of the virus that we had seen. On a side note, I either have never had COVID or I had it in October 2019, which is the most likely thing.
I was sick as a dog then, with all of the symptoms but, of course, I tested negative for everything, as they were not detecting it at that point. That's the only reason I can give to reconcile the fact that I have "never" had it despite the literal thousands of people I have been around since then, between both restaurants, teaching and catering. There's just no way.
That is not to say that I won't get it, or that I am immune. I'm just curious as to how I have never had it, technically.
But getting away from this tangent, what are we to do when we are stuck at home with any of the many ailments afflicting us at present? Well, first we rest. Second we binge watch Netflix or any other streaming service (how did we ever survive before?) and we eat copious amounts of soup if our bodies allow us.
For obvious reasons, I would suggest that you stay away from cream-based soups (just the thought of that makes me cringe) and stick with the broths.
Broths can be used for so many delicious, filling, and satiating soups. Think minestrone, chicken & rice, chicken vegetable, pho broth all by itself or this simple Asian-influenced tonic. The list is endless and tiring to think of, but you get the idea.
There have been books written on the nutritive and recuperative benefits of chicken soup, and I am a firm believer. Find one that works for you and let it rip. And the greatest part is that most will freeze for future use quite nicely.
So, until this latest run of illnesses run their course, learn to master chicken soup. Heal yourself and your soul, and get back out there to rule the world.
Soup for the Flu-ridden Soul
Makes about 3 quarts
2 qt. Homemade chicken broth (recipe follows)
1/4 ee. White onion, shaved
1/4 c. finely julienne carrot
2 scallion greens, chopped
2 cloves smashed garlic
2 whole eggs per bowl
Salt & Pepper to taste
2 Tbsp. Bachan's™ Japanese BBQ sauce
Heat chicken broth to a simmer. If the flavors are not very intense, you could start with 4 quarts and reduce to 3. If it is homemade (and it should be in this case), not only will the flavors concentrate, but the proteins will increase by volume making it more nourishing.
Add onions, carrot, scallions and garlic.
Add the eggs, 2 at a time to poach, removing once the whites have set and the yolks are still runny. Keep warm until ready to serve.
When eggs are done, add the Japanese BBQ sauce (Hawaiian BBQ sauce is a variation on a theme).
Reheat the eggs if necessary and split the soup as needed. Make sure to give all the sickos an even share of vegetables, and then top each bowl with two eggs.
Serve and let the poor bastards go back to bed or laze on the couch to watch movies.
Chicken Broth
Makes about 1 gallion-ish
1 whole chicken with neck or
leftover bones and meat from rotisserie chicken (my favorite)
1 large carrot, peeled and large chunks
2 pieces celery, large chunks
1 whole yellow onion, cut into 4 pieces
2 bay leaves
1 Tbsp. Black peppercorns
1 tsp. Dry thyme
stems from 1 bunch parsley
whites from the scallions you cut earlier
Place everything in a stock pot large enough to hold.
Top with water, covering the highest part by 2 inches.
Don't pay attention to the common notion that this only takes three hours to complete. Follow closely.
If using a whole chicken, you can remove at 2-3 hours and pick the meat and reserve for later. If you are using a rotisserie, let it fly.
Replace back in the water and cook overnight or at least six hours at a low simmer. Make sure that there is the tiniest amount of rolling convention.
When done, strain and use the broth or refrigerate.
Cool the leftover garbage enough to place in the trash can.
— Paul Suplee is the owner of
boxcar40, boxcar on main,
boxcar crafted events and
sportfish catering.
www.boxcarrestaurants.com