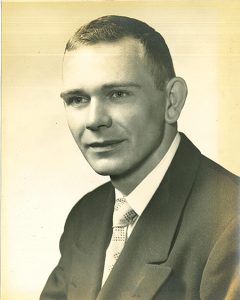 Richard Byrd Taylor
Berlin
Richard Byrd (Dick) Taylor, 91, passed peacefully away on Aug. 19, 2022.
Born Dec. 29,1930, Dick was raised in Quantico, Maryland. He was the son of the late Clifford Augustus Taylor, Sr., and Sadie Holt Taylor.
Dick graduated from Wicomico High School, where he was a standout athlete especially in football.
He enlisted in the Marine Corps, becoming a Korean War veteran, shortly after graduation and attended college at the University of Florida, proudly becoming a "Gator."
In later years, he was a deputy sheriff in Wicomico County. After 30 years of working as a building inspector for the Town of Ocean City Dick retired.
He enjoyed daily jogs on the Boardwalk and walking his beloved Chesapeake Retriever who was named Taylor.  Sadly, he lost his beloved Taylor a couple of months ago.
Dick was a member of the Masonic Lodge; he was a true outdoorsman and enjoyed hunting, especially waterfowl. He always had interesting stories about his hunting experiences.
Whenever you saw Richard, you were always met with a firm handshake, slap on the back, beautiful smile and he always said he" felt like a million dollars," no matter how he really felt.
He is survived by his children, Richard" Ricky" Taylor Hardy (Marilyn), Robert "Bobby" Taylor and Patty Lou Adams; stepchildren, Ken, Cynthia, Donna and Andrew and Teri Hardy.
He is also survived by several grandchildren, great-grandchildren, nieces, nephews, great-nieces and nephews as well as his very special friend and companion, Pasty Stewart and her children.
In addition to his parents, he was preceded in death by wife, Elizabeth "Liz" German Taylor; the mother of his children, Patricia "Pat" Schoonover Taylor Hardy; his siblings, Clifford Augustus Taylor, Jr. (Esther), Orlando "Bunk" Taylor (Jeannette), Eleanor Taylor Horsey "Ernie," Margaret "Peggy" Sterling (T.R), Emilyne Taylor Couch "Joe;" and his niece, Terri Taylor.
A memorial service will be held at Holloway Funeral Home, Salisbury, Maryland, on Sept. 4, 2022, at noon with a visitation one hour prior.