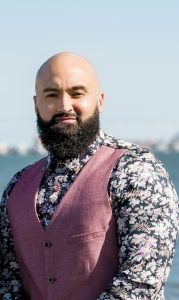 Ricky Raiseem Whittington
Woodbridge
Ricky Raiseem Whittington, age 40, of Woodbridge, Virginia, died unexpectedly on Friday, June 10, 2022, from injuries sustained in a vehicle crash.
Ricky was born in Salisbury, Maryland, and was the son of Karen Whittington-White and the late Ricky Lemont Whittington.
Ricky was raised in Parsonsburg, Maryland, and graduated from Parkside High School in 2000, where he enjoyed playing football for the Parkside Rams. During his senior year, he was named Homecoming King.
After high school, he attended Morgan State University, obtaining a Master of Science Degree in Industrial Engineering.
Ricky was an engineer in Geospatial Intelligence, where his co-workers often described him as someone who always led by example, had a strong work ethic, and was fun to be around.
Ricky always made it known to others that he was the "protector" of his little brothers and sister. He was always showing a brother's unconditional love.
One of Ricky's most significant accomplishments was being the father of his baby girl, Fairra.
As a dad, Ricky always displayed kindness, patience, strength and a fantastic sense of humor. His sense of humor was often highlighted in his stylish dress and love for the Washington Redskins, Commanders.
He is survived by his loving mother and father, Karen and Ernest White of Laurel, Delaware; his beautiful daughter, Fairra Whittington of Woodbridge, Virginia; three brothers, Ryan Whittington, Ernest White Jr. and Ayron White; and sisters, Phylita Reeves and Charise Beckett; uncles, Kevin Whittington, Tony White and Michael Dickerson; aunts, Tina Evans and Trina Dickerson; and dear cousins, Michelle Smiley, Craig Allen, Cory Willey and Regina Joyner; grandmothers, Pauline Pruitt and Peggy Bivens; and grandfather Joe Harrison; along with a host of loving relatives and friends.
He was preceded in death by his grandfather, John Dickerson; and great-grandparents, Clonie and Edna Pruitt, and Nathaniel and Annie Whittington.
A memorial service will be held at 3 p.m. on Saturday, July 9, 2022, at Delmar Fire Department, 301 E. Grove Street, Delmar, Delaware, where friends may call one hour before the service.
In lieu of flowers, donations may be made to: https://gofund.me/077bcdb8. All donations will be used for memorial services and all expenses incurred from our family's tragic loss.
Condolences may be sent by visiting www.bishophastingsfh.com.