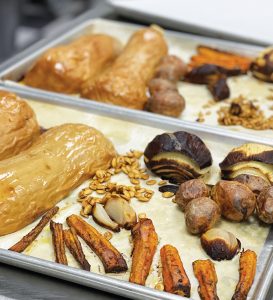 By Paul Suplee, MBA, CEC, PC-3
I guess we should all be thankful that spring has not actually sprung.
Don't throw anything at me; just bear with me for a spell. We were all hopeful last month with a few surprise warm days, but this month has already reminded us to stock the woodpiles for the oncoming winter storm that I feel like we are destined to get by a strange twist of serendipity. Good Lord, has it been chilly, windy and downright nasty.
Mother Nature, is there any way that we could forego these trials and get right to summer, please?
We have tomato and bean plants to get in the ground, palm trees that need to be procured and planted and many other spring-based tasks needing to be accomplished to get the abode ready for summer.
And what a summer it will be. Unlike last summer, during which there was not much time for the beach or fishing (I did not catch my first fish of 2021 until December 29), I am determined to make the most of the season.
For now, however, it seems as though we need to keep our jackets at the ready, beanies available and scarves at arm's length, just in case we are smacked with yet another cold front, storm front, nor'easter or anything else that the good universe finds compelled to send our way.
But, here is the good news. Short of a little cool weather, what else do we have to complain about?
Now, I'm sure that there is plenty to grumble about, and I myself am good at that on occasion, but in reality this is but a tiny setback for the green thumbs who impatiently wait for the break in the weather.
The leaves abound on the trees, a great many flowers are already blooming, and the banana palms have exited the ground, stretching to the sky with leaves unfolding in their yearning for sunlight and water.
Luckily, as nasty as this last system was, it was just what these little guys needed.
The last of the large palms has broken the surface, a bit late as it has been a chilly spring, and my 12-foot recurring palms will be back again. I am relieved.
But back to why I believe that we should be thankful as we sit huddled in our sweatshirts and slippers 11 days into May.
Yes, it is too chilly for this time of year, but surely, also, it gives us one more opportunity to make all those glorious and hearty one-pot meals: chili, pot roast, sausage & peppers, Shrimp Alfredo.
Of course, I can't exclude one of my absolute favorites, roasted butternut squash soup. This is a classic, and when done right, is unctuous, creamy, sweet, salty and more. The umami from the seeds (garnish) meets well in the middle with the scallion oil that is lightly drizzled on top.
And when it is chilly as it is right now, this soup will warm you to the core. As an aside, you may use chicken stock in place of vegetable stock to make it a touch heartier, but that is completely up to you. This is a vegetarian version of the dish.
Roasted Butternut Squash Soup
makes about 1 gallon
1 ea. Butternut squash, halved & seeded
Squash seeds
2 ea. Medium carrots, peeled and quarteres
1 ea. Yellow onion, halved
4 ea. Red potatoes
2 ea. Fresh shallots, halved
1/4 c. olive oil (does not need to be virgin)
2 c. Vegetable stock
2 c. Heavy cream
½ tsp. Cinnamon
a few scrapes of nutmeg
the same of allspice
the equivalent of 1 clove, ground
Salt & Pepper to taste
Scallion oil, as garnish
• Place squash, seeds, carrots, onion, potatoes and shallots in a bowl and toss with oil.
•  Place on a baking sheet, spread out and seasoned with a little salt.
•  Roast at 375° F until everything is nice and soft.
•  Remove when all of the ingredients have nice color to them and are overly tender.
•  When you pull them out of the oven, remove the seeds and set aside until service. This is your garnish.
•  When cool enough to handle, but still hot, peel what remains to be peeled (should just be the squash, honestly) and place in a good blender, such as a Vitamix.*
•  Add the vegetable stock and ever so carefully blend until it is smooth and creamy. The beauty of the Vitamix is that it will actually heat the soup from friction at higher speeds, so letting this go accomplishes two tasks: a perfectly pureed soup, and one that is hot and ready to serve.
•  When everything is perfectly smooth and creamy, add the warming spices and heavy cream.
•  Season and taste, adjusting accordingly.
•  Serve with toasted seeds and scallion oil as a garnish
Just make sure to squeeze this one in before the weather breaks. You are welcome.
*I know that I write about certain appliances such as KitchenAid and Vitamix, and I just wanted to clarify that I am not sponsored by these companies. I have been sponsored by others, but not these guys. I just like how they perform. If you're serious about your cooking, then seek out these brands and spend the extra money on the higher tier items. You'll thank me later, although your bank account will not.
— Paul G. Suplee is an Associate Professor of
Culinary Arts at Wor-Wic Community  College.
Find his ePortfolio at www.heartofakitchen.com.