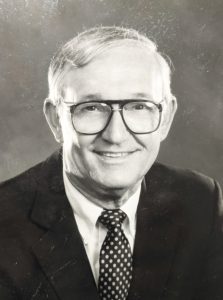 Robert Harry Phillips
Berlin
Beloved by countless friends and family, Robert (Bob) Harry Phillips, age 93 of Berlin, Maryland, passed away at the Coastal Hospice at the Lakes on Oct. 21, 2021.
Born in Hebron, Maryland, on March 27, 1928, he was the son of the late John Edward Phillips and Elizabeth Savage Phillips.
Bob is survived by his wife of 48 years, Esther Collins Phillips; a daughter, Leigh Ann Taylor (Ricky); a son, Robin S. Johnson (Carol); five grandchildren, Katie Cabrera (Joaquin), Hunter Johnson (Brandie), Ryan Taylor, Brett Taylor and Jake Taylor; and one great-grandson, Gavin Cruz Cabrera.
He is also survived by his sister, Brenda P. Fox (Jim).
He loved his nieces and nephew like his own: Susan Colliton (Kevin), Lori Bennett (David) and Jim Fox II (Dawn).
He also loved his great nieces and nephews:  Sarah, Corie, Patrick, Jimmy III, Jordan, Jessie, Johnny and Rachel.
He was preceded in death by not only his parents but also his son, Robbie Phillips; and his sister, Peggy Elaine Phillips.
He graduated from Hebron High School in 1946 and then from Beacom College in 1948.
For 42 years, Bob was employed by two different banks: the Union Trust Co. (24 years) followed by Peninsula Bank (18 years).
He served Peninsula Bank in various lending, managerial and business development capacities including regional vice president for the bank's three offices in Ocean City and Berlin, and in 1988 was named vice president for Business Development in Worcester County.
Active in various civic and community affairs, Bob was a member and a director of the Berlin Lions Club, a director of the Worcester County United Fund Drive, and a director of the Berlin Heritage Foundation.
His other previous affiliations included the Ruritan Rockawalkin Club, the Board of Zoning Appeals for the Town of Berlin, Worcester County Board of Education Technology Task Force, Berlin Chamber of Commerce, and the Atlantic General Hospital Fundraising Campaign Committee.
A member of the Lions Club for 47 years, Bob was a recipient of the Melvin Jones Fellow Award for his humanitarian efforts. He was also a member of the Stevenson United Methodist Church in Berlin where he enjoyed listening to the church's pipe organ.
After retiring from the banking industry, his passion for fine woodworking drew him into his woodworking "shop" just steps away from his back door.
He spent many hours in his shop fine-tuning his craftsmanship. The exquisite detail of his work was deeply appreciated by countless individuals for whom he made furniture.
Bob was also an avid reader with an insatiable appetite for fiction, reading up to several books a week, even up until the time of his passing.
In his later years, he also thoroughly enjoyed "the Lunch Bunch" gatherings on Wednesdays as well as the monthly Phillips "Cousins'" luncheons.
He was well known for his authenticity, humor, intelligence and wit, which served him well throughout his life. It has been said, to know him was to love him.     
A celebration of his life will be held on Nov. 21, 2021 at 2 p.m. at Stevenson United Methodist Church in Berlin, Maryland. Rev. James Fox and Rev. David Bennett (nephews) will officiate.
For health considerations, face masks are recommended and there will be no visitation prior to the service.
In lieu of flowers, memorial contributions are welcome to Coastal Hospice (P.O. Box 1722, Salisbury, Maryland 21802) or to Stevenson United Methodist Church (123 N. Main Street, Berlin, Maryland 21811).
Arrangements are in the care of Eastern Shore Cremation and Funeral Service, 504 Franklin Avenue, Berlin, Maryland 21811. To send condolences to the family, please visit www.easternshorecremation.com.