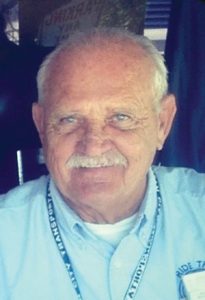 Robert Thomas Stone
Ocean Pines
July 31, 1937 – Oct. 5, 2021
Bob was born and raised in Lombardee Beach, Maryland.
He graduated from Glen Burnie High School in Baltimore in 1956.
Bob was a role model husband, father and daddad. He was friendly and kind to everyone. A strong man who never let life get him down. Always positive.
He worked hard through his life to make sure his family was happy and taken care of. He loved all of us so very much.
He was preceded in death by his wife of 61 years, Jeannie.
He is survived by his daughter, Tracey Despeaux and husband, Darryl; grandfather to Josh Utz and Kerri, Mandy Coble and Matt, Rebecca Despeaux; and great-grandfather to Jacob Utz and Bradley Coble and soon to be Caroline Utz and baby Coble.
He is also survived by his sister, Leota Parsons; brothers, Allen and Richard Stone; sister-in-laws, Charlene, Carolyn and Debbie Stone, Shirley Semone and Janice Shockey.
He was preceded in death by parents, Harry Sr. and Sibylla Stone and Brother Harry Jr.
Bob started working in 1956 at the Key Highway Shipyard. Then in 1961, he was employed with Food Machinery and Chemical (FMC).
He began a career with the federal government in 1966, where he retired from in 1997.
Once retired, they built a new home in Ocean Pines. That's when Bob decided he wanted to continue to work and started at the 74th Street umbrella stand. He worked there for nine years.
Bob knew everyone in the area, and families who vacationed once a year he would call them by name.
He would get up in the morning, put on a bathing suit pack a cooler to include a few Bud Lights and sigh, "oh I guess I gotta go to work today."  He loved every minute of working at the beach stand.
Bob moved onto his next career driving the Ocean City bus. He just couldn't get enough of working in Ocean City. He drove the bus until Labor Day weekend this year.   
In 2005, Bob and his wife purchased three acres in Pittsville, Maryland, and built another new home where he currently resided.
Bob loved the beach and enjoyed traveling. He purchased a motor home and traveled to 18 states. Many of his favorite places were warm and sunny: Aruba, Virgin Islands, Hawaii, Puerto Vallarta, Cancun, Bahamas and Key West Florida.
As much as our family will miss him we know he has joined his wife, Jeannie.
Memorial Service will be held Saturday, Oct. 23, 2021, at 4 in the afternoon, at Solley United Methodist Church, 7600 Solley Road, Glen Burnie, Maryland 21060.
It will be followed by a Celebration of Life at the Despeaux's residence. In lieu of flowers, memorial contributions can be made to the trust fund set up for Bob's great-grandchildren.   
Arrangements are in the care of Eastern Shore Cremation and Funeral Service, a division of Holloway Funeral Home, 504 Franklin Avenue, Berlin, Maryland 21811.
To send condolences to the family, please visit www.easternshorecremation.com.