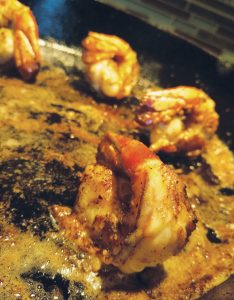 By Paul Suplee,
MBA, CEC, PC-3
This article originally ran in the Sept. 8, 2016, edition of the Bayside Gazette.
Man, what a busy week we have ahead of us. Our own kids are off to school and dreading every second of it. In fact, we continued the Suplee tradition and had our "179 Days Left" ice cream cake that we have had on the first day of school for the past 14 years. Mind you, it's not the same cake but you get the idea.
For me, school starts anew with returning and fresh students, and I get to hopefully share some of my seemingly unlimited and useless wisdom with them. With some special events coming up this weekend, next weekend and the one thus following, suffice it to say that I may be nigh worn out by the time October gets here.
But that's all in a day's work, or more to the point a month's work. I'm excited to get back in the classroom and dig into the new offerings in our program.
Of course, with this change in weather (as evidenced by my feet perched on the warming bonfire bricks) comes the influx and flat out invasion of pumpkin-flavored everything. As much as I try to stay up with trends in our industry, I am having a hard time with this one. Of course saying this I'll somehow wrangle a few pumpkin articles this fall, but that is the way of it, as Dickens would chime.
No, I hit the proverbial wall when I saw a company advertising its pumpkin spice protein shake. Come on, my good people. Have we really sunk so far as to inundate health food with even more artificial flavors? Maybe I'm wrong. Maybe there is something endearing to this whole pumpkin thing. But, it was just August a week ago. How can we make the switch so quickly from boardwalks, orange crushes and sunburns to cinnamon sticks in our hot toddies?
In my fervor to avoid anything and everything pumpkin, I dug through the freezer to see what I could muster up for dinner. It wasn't long before I ran across some langostino that a seafood-broker friend of mine gave me a month or so ago. I love langostino, and if you've never had them think shrimp-size and lobster-taste.
While the argument may still be out about the difference between shrimp and prawn, make no mistake that langostino will hold your heart hostage once you've tried it in shrimp's stead. When you are peeling them, they will feel like shrimp and they will perform, understandably, as a combination of shrimp and lobster.
When I say that, I mean that they will cook much more quickly than lobster as they are shrimp-sized, albeit very large shrimp. But, when they are done they have the sweet and delicious lobster flavor, and there is something quite magical about that.
In my younger years – we're talking the early '80s – I was dubbed "The Executioner" at my second job at Key West Shipping Company, an interesting restaurant that prided itself on its unadulterated use of smokers and fireboxes. It was a great place.
Apparently, killing lobsters is a life-changing event for some people, and as I could do it at 16 I was called upon whenever we needed to split one in half for a grilled lobster entrée. Now mind you, I did not enjoy doing it; I merely understood that it had to be done. Ergo, I chopped the little bastards in half, working as diligently and swiftly as possible so as to minimize their suffering.
And when they were split, they were doused with butter, salt and pepper and thrown on the grill. When done, they were topped with a homemade Amitriciana and sent on their way.
And with langostino, you have all of the benefits of lobster with the ease of cooking shrimp. To top it off, you're not going to find fresh langostino, so you don't have to worry about "the sacrifice," as we called it.
This recipe is for a simple, tart langostino, but flavor it at will. But whatever you do, please refrain from the pumpkin for at least another four weeks.
Sautéed Langostino
enough for four people
20 Langostino
4 ounces Unsalted butter
1 Tbsp. EV Olive oil
1 Medium shallot, finely minced
4 cloves freshly minced garlic
1/2 cup Dry white wine
Salt & Pepper, to taste
Fresh parsley, minced
Peel langostino, removing any membrane and butterflying if you so desire. Keep chilled while you prepare the rest of the mise en place
When ready, fire up a good pan that will distribute heat well
Add butter and the oil and cook until butter is just beginning to brown
Add langostino and sauté until they are just barely cooked through. They will continue as you finalize the dish
Remove with a spoon, leaving the butter, oil and fond, or as I like to call it, "goo"
Add shallots and cook for about a minute
Add garlic, ensuring that you do not scorch it. Once that happens, scratch the sauce and start all over again. Garlic gets way too bitter when burnt
Deglaze with white wine and cook down until you have a viscous sauce that will coat the langostino
Speaking of that, these goes great with a wild rice blend, country green beans, roasted Brussels sprouts, roasted fingerling Yukon's or any other sides that you can imagine
Paul Suplee is the owner of Boxcar40 in Pittsville
and senior lecturer of culinary arts at UMES.