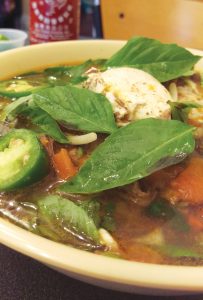 By Paul Suplee, MBA, CEC, PC-3
Just the other day I was reading about soups and how satiating they can be, especially broth soups.
I pondered this as the scents of cinnamon, cardamom and star anise wafted through the first floor of my house.
Of course, you could make out the aromas of chicken stock and other ingredients coming from the pot, but it was the smell of the ubiquitous pho seasonings that caught my attention first and foremost.
Adding a plethora of vegetables to the cauldron only helps to make this not only satisfying but nutritious to boot.
It is safe to say that it is a touch healthier than a hearty cream of crab soup (which I had last night and was delightful), and is a soup that one can enjoy any month of the year.
The warming spices make it a perfect fit for winter, and the broth base makes it easily suitable for summer. Seasonally, pho is a one-size-fits-all bill of goods.
I have had pho in a number of Vietnamese restaurants and cafes, although never one located in Vietnam proper.
A good friend of mine just returned from a trip there and said it was his favorite of the five countries they visited.
As a chef, he was intrigued by the many styles of cooking and types of foods eaten throughout Asia, but he found that the flavors and cooking of Vietnam suited him perfectly.
No, I am not that lucky. Well, maybe someday I can make a trip like that.
My wanderlust has been kicking into high gear lately, so who knows? Maybe an overseas trip could be in order for me and my kids.
My youngest liked the pho, which is a huge win as I rarely cook at home.
I know, I know. My kids have heard for years that they must eat like kings and queens at home. Alas, as the old saying goes, the cobbler's children have no shoes. Or the plumber's pipes are always leaking.
Insert the quaint saying of your choosing and let's move on from this rather embarrassing moment in literature. I'm working on it.
What makes pho so special to me is the level of freshness of everything from the soup itself to its toppings. I just started purchasing local, organic duck eggs, and topping the soup with a poached duck egg is absolutely mind-blowing.
On a side note, using duck eggs to make crepes is a phenomenal substitution for "normal" eggs.
I will not denigrate the almighty chicken egg, but if you can get your hands on duck eggs, you will find yourself eternally in my debt. I am that confident in your liking of this fantastic food.
Next up for discussion is the herbaceous topping of pho.
If you think about a banh mi with all of its herbs and greens on top of pickled vegetables and grilled meats, then it would also make sense to have similar herbs adorning your soup.
Herbs add such a unique layer of flavor to your dishes. And now that our last "blizzard" has passed (I can't remember a single accumulation of snow this winter. What a shame), it is time to either break out the rosemary, thyme and basil bushes or buy some hearty ones when they are stocked at all of our local garden centers.
It's hard for me to believe that last summer was my first in many years that I did not have an herb garden.
I let my mind get the best of me, and took on too many projects. This season, I will buy my plants and nurture them.
And as I move forward this season, I will be making this soup at least once a month.
Honestly, I might make it more often than that. Who knows? Either way, add this to your arsenal and savor the flavors and the nourishment.
Beef Pho
makes about 1 gallon
5 quarts beef or veal stock
1# daikon or radish, peeled and chunked
6 scallions, charred under broiler or on flame
2 carrots, roasted and chunked
6 cloves of fresh garlic, bruised
4 Cardamom pods, slightly crushed
2" of lemongrass, bruised
3" of fresh ginger, peeled and bruised
1 ea. Large red onion, large chunk
4 ea. Whole star anise
1 ea. Cinnamon stick
1 tbsp. Black OR Szechuan peppercorns, whole
Combine ingredients and bring to a boil.
Turn down to a simmer and cook for an hour. Keep a lid on it so the steam goes back into the broth.
Adjust seasoning and strain. Set aside and keep hot, or chill and reheat at service time if enough time elapses.
Follow instructions below for assembling your finished pho.
For The Finished Bowl
enough for 6 servings
12 oz. Shaved sirloin
1 package rice noodles, soaked, cooked and cooled
2 ea. Carrots, peeled and shredded
6 eggs, poached soft
1 bunch cilantro
18 ea. Basil leaves (at least)
12 ea. Mint leaves (optional)
3 ea. Scallions, fresh and sliced
2 ea. Shallots, shaved fine
6 ea. Lime wedges
3 ea. Jalapeno, sliced
1 bag bean sprouts
When you are ready to assemble your pho, lightly poach the beef while the broth is piping hot.
Divide noodles evenly between 6 bowls.
Top with fresh vegetables, egg and beef.
Serve with lime on the side, and of course Sriracha or another chili sauce.
Paul Suplee is the owner of the
boxcar restaurants and is also
Senior Lecturer of Culinary Arts at UMES.
boxcarrestaurants.com