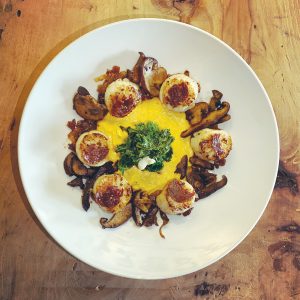 By Paul Suplee,
MBA, CEC, PC-3
 Reprint from Nov. 17, 2022
Oh, you thought I was going to write about turkey today, didn't you? No, there is enough rubbish out there this month to feed a small army, or rather a massive one. You certainly do not need to read another thing about that magnificent bird and what is quite honestly my favorite meal. Death row? Thanksgiving dinner, please and thank you.
It is good, however, to reflect on the season itself, if I may be so bold. I absolutely adore this time of year, and as much as I hate the thought of chopping down the banana palms in preparation of winter and eventually next spring, I appreciate the seasons with which we are fortunate.
After living in San Diego for three and a half years, a span of coastal desert in which they planted grass and faked an entire ecosystem where there really aren't seasons of sorts, I can appreciate this. Out there, It is either hot or a little chilly. That's about it.
Of course, you can drive a few hours northeast to ski or snowboard, so at least they have that. The mountains in California are beautiful as you gaze at them, snow-covered and peaceful as you stand in the street wearing surf trunks and flip flops. Yet, as amazing as that feeling can be (standing in a street in Riverside trying to get your head wrapped around snow-draped mountains), it takes away from the idea of seasons in the first place.
Just the notion of seasons pleases me, as it was truly the reason I moved back to the East Coast. It happened as my parents picked me up from BWI in June, 1989. I was already embedded in the SoCal culture as well as the Marines, and I enjoyed it. But when we hit the bay bridge on that fateful day, there was a torrential squall that was heading right toward us from the Eastern Shore.
I will never forget that moment, as I grew up with those storms that would pop out of nowhere. In California, the closest I ever came to that sensation was dust devils in the Mojave desert. And while those little bastards can tear a tent city apart in about 30 seconds, they're kind of pointless. It's just more dust, dirt and sand in every crevice of your body and gear.
A squall ripping across the water is both terrifying and humbling if you happen to be on a vessel on the water. Pulling in the sails, you weather the storm and simply hope that it is a short one. And when it passes, you realize that it all just goes back to business as usual. Set the sails and get flying up the bay again.
So that day was when I realized that I would move back to the East Coast when things were settled with my military contract. And here I am. Not a day goes by that I don't reminisce of good times in Southern California and Mexico, but that was a day gone by.
Now I'm here and love living in such a rich and diverse place. One of my favorite parts of cooking in areas like this is, in fact, the seasons. Soft shells in the summertime, scallops, the point of this article, now waning in their supply as fishermen prepare for dry dock, and the rest of the bounty from our ocean.
I love buying fresh seafood from Skillagallee or Sea Born in the commercial harbor. There is literally no greater sign of the seasons than fresh fish. Embrace it, buy it and cook with it. You can have turkey next Thanksgiving.
Seared Scallops, Butternut Squash Puree
serves 4
24 ea. Fresh, dry scallops
Trimix, as needed
Clarified butter, as needed
2 c. Shiitake mushrooms, sliced
1/2 c. White wine
4 c. Butternut squash puree (recipe follows)
2 c. Kale sauteed in roasted garlic, as garnish
Pat the scallops dry with a paper towel and set aside until ready to sear.
Season with trimix, and then heat the clarified butter in a good saute pan.
Sear the scallops in the hot pan for around 2 minutes per side, or until they have a nice crust before turning.
Remove and keep warm while you immediately add the mushrooms and more butter, if needed.
Cook until almost done, and then add the wine and reduce.
Season to taste and keep warm until service.
Place the puree in the center of the plate, and surround it with the scallops and mushrooms.
Top the dish off with a little bit of the kale and enjoy a hearty, lovely autumn meal.
Butternut Squash Puree
Makes about 2 quarts
1 ea. Butternut squash
1 c. Cream, or as needed
1 tsp. Kosher salt
1/2 tsp. Black pepper
2 tbsp. Pure maple syrup
1/2 tsp. Ground cinnamon
Cut the squash in half and scrape the seeds out.
Brush with oil and place face down on parchment on a baking sheet.
Place in a 375F oven for about 40 minutes, or until a skewer passes right through the tender squash.
Remove and when cool enough to handle, scoop out the flesh and place in a food processor.
Add the other ingredients and process until the squash in nicely pureed. Adjust seasoning and keep warm until ready to serve.
Paul Suplee is the owner of Boxcar40 in Pittsville
and senior lecturer of culinary arts at UMES.