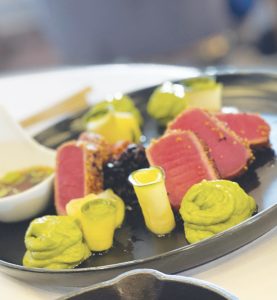 By Paul Suplee, MBA, CEC, PC-3
Have you ever had that one food … that one "thing"… that absolutely blew your mind? Well, I can honestly say that I have live that blessed life where that happens at least once a year; I like to travel.
Now, truth be told, that could be a misfiring in my maladjusted brain, but I nonetheless respect when it happens.
I recognize it each and every time because more often than not, no matter how many years I have been entangled in this industry, I love when someone does something new and fresh.
And as today's recipe will address, this is certainly not new, but I sure as hell hope that it is indeed fresh. It isn't the tuna on the plate. It isn't the avocado cream, nor the pickled cucumbers. It, ladies and gentlemen, is the Forbidden Rice.
Yes, that was capitalized, and by design. I can't think of a time when I cooked something with so few ingredients that rendered me so absolutely speechless. And then I throw "rice" in the mix, and I am still astounded? None of this makes any sense.
Allow me to explain. I, in case you are not aware, have been around food for 54 years. Out of those 54 years, I have been cooking professionally for 39 years. That is an awful lot of years. And throughout the passage of time, I had never heard of Forbidden Rice.
I had it in Florida a year ago and it was transforming. I mean, when we think of rice, aren't we always discussing how it only tastes like what it's cooked in?
This is certainly not the case with Forbidden Rice. This starch is so astronomically delicious, that you would think that I'm leading you into a trap.
When I tasted this for the first-time last year in St. Augustine, I was floored. I was with my two younger children, and we had a delightful roundtable.
My first impression (and not a difficult assumption to reach) was that this was a royal's rice in Japan, hence its name. My daughter quickly pulled it up on her pocket computer, and I hit the nail on the head. It was a royal rice. And — holy crap — would that make sense.
It is hands-down the meatiest, richest, most delicious rice you will ever eat. But don't trust me. Trust Amazon. That's about the only place "down here" that you will find it.
Forbidden rice —who knew? Well, I certainly did not, but now I do. And now, so do you.
Seared Tuna, Avocado Crema, Forbidden Rice
Serves 4
1 ea. Cucumber, sliced thin without seeds
1/2 c. Red wine vinegar, good quality
1/2 c. Sugar 4 6-oz. Tuna filets, fresh
2 Tbsp. Japanese 7-spice (recipe follows)
1/2 c. Avocado Crema (recipe follows)
Forbidden Rice (recipe follows)
Salt & Pepper, as needed
Before this whole shindig gets started, place the cucumber slices in a bowl.
Bring the vinegar and sugar to a boil and pour on top of said cucumbers.
Immediately place them into the icebox. Cool and savor the moment.
When the time is right, prepare the forbidden rice and set aside, ensuring that it does not overcook.
When it is go-time, pat the tuna dry and heat some oil in a pan.
Season the tuna with the 7-spice and sear the tuna to rare, or to your preference.
Serve with the pickled cukes, forbidden rice and crema. Sit back and revel in your accomplishment, as you just made a world-class meal.
Japanese 7-Spice Blend
Makes about 1/2 cup, which will last a good long while.
2 Tbsp. Chili powder
2 Tbsp. Szechuan peppercorns, crushed but still with a little body
2 Tbsp. Black sesame seeds, slightly crushed
1/4 sheet nori seaweed, crushed well to blend evenly
1 Tbsp. citric acid (available in Asian and Latin markets)
1 Tbsp. MSG (Yes, I've heard the myths as well, but if you eat asparagus and mushrooms, I'm fairly certain that you will be just fine).
1 Tbsp. Ginger powder
Yes, I am well aware that other recipes have other things, but as I have written about Mexican mole, Louisiana gumbo et al, if I give you one hundred cooks, they shall bestow upon you one hundred vastly differing recipes. Deal with it.
This can be pulverized into a powder, which is perfectly acceptable, but personally I prefer to keep at least a little bit of the bit in the game. The call is yours.
Avocado Crema
Makes about 1 pint-ish
1 fresh, guacamole-ready avocado
1 c. Crema fresca (Latin Markets, once again)
Trimix, as needed (if you don't know, read more of my garbage)
Juice of 1/2 lemon
Combine everything in a blender until beautifully pureed.
Keep chilled until service.
Forbidden Rice
Makes about a quart
2 c. Forbidden rice (buy it online, don't kill yourself looking for it).
3 1/2 c. Water
1 Tbsp. Olive oil
Aforementioned Trimix, as needed
Rinse the rice if necessary, or otherwise follow the producer's instructions, and then just combine everything in a pan.
Cook for about 30 minutes and pull it when it's done. This is literally the best rice you will ever eat. It was a "controlled substance" in days of yore, hence its label.
Allow to cool enough to handle and serve, and then serve it up!
— Paul Suplee is the owner of boxcar40,
boxcar on main, boxcar crafted events and sportfish catering.
www.boxcarrestaurants.com