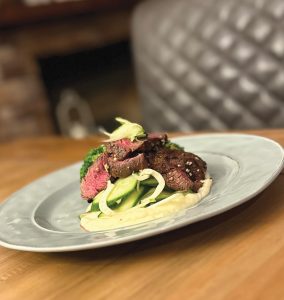 By Paul Suplee,
MBA, CEC, PC-3
Sometimes we eat with our eyes as well as our stomachs, and I know that you know the feeling. When I commit the cardinal sin of going to the store hungry, I come home with toaster pastries and prepackaged cakes in my cart. That certainly will not help anyone at our age get in shape, will it?
Other times, however, I actually plan and have more of an inkling on what we should be eating, and tonight was one of those nights. It is not very often that I get a hankering for raw fennel, but when I think about it, I am transported back to Todd Humphries' Martini House restaurant, a now-defunct shrine to cuisine in St. Helena, California.
Years ago, while on a trip with a dozen other chefs to Napa Valley, we had the honor of a multi-course dinner at this incredible restaurant. The star of the show for me was the shaved fennel and cucumber salad, a divine creation that, if I had to guess, only had about six ingredients in it. It was a standalone dish, but since then, I have made it in various iterations and served it with fish, pork and beef.
The latter can be tricky because this is a very light and vibrant salad that some may feel would not stand up to beef. But trust me on this one.
Tonight, I made grilled filet with cauliflower puree, another old standby, the salad and drippings from said steaks. Eating according to etiquette — placing a bit of each component of the dish onto the fork in every bite — you at once have the richness of the beef and puree with the crisp and vibrant sweetness of the salad. It is a fantastic combination.
And while I had to pick the fennel out of the salad for my girlfriend (she cannot get past the black licorice taste), it was still a proper accompaniment to the steak. The salad transforms this dish into a nice segue to the fall and winter months. While the cauliflower puree would not necessarily be the best side dish in the middle of August with all of the cream and butter, the refreshing juxtaposition of the salad ties it all together, affording us a proper dish for the time of year.
As I finished my dinner, I reminded myself that I really need to stop shopping hungry.
Grilled Filet with Shaved
Fennel and Cuke Salad
Grilled Filets
serves 4
4 ea. 6-ounce filets
Good quality garlic butter (recipe follows)
Salt & Pepper to taste
2 c. Cauliflower puree (recipe follows)
2 c. Fennel & Cucumber Salad (recipe follows)
Steamed broccoli (optional and pictured)
Pull the filets out of the icebox 30 minutes before grilling. Pat dry and season liberally. Allow to sit for a few minutes with the seasoning.
While the filets are slacking, prepare the salad and puree, as outlined in the recipes below.
Grill the steaks until your desired doneness, which for me is medium rare but to each their own.
Allow them to rest for at least five and preferably ten minutes so that the proteins can relax a little. Some juices will accumulate, which are divine poured on top of the finished dish.
When everything is ready to go, place some puree on the plate with a couple of broccoli florets.
Add some of the fennel-cuke salad and place some sliced steak on top
Drizzle some of the steak juices and then garnish with a nice sliver of dressed cucumber and fennel.
Garlic Butter
makes about 1 cup
1 stick butter
juice of one lemon
3 Tbsp. Garlic, smash and minced
1 Tsp. Kosher salt
1 tsp. Cracked black pepper
1 tsp. Thyme leaves
1 tsp. Fresh minced parsley
Place in a small pan and heat through. You can cook this down to evaporate some of the water in the butter to intensify the flavor, but it is not completely necessary.
Set aside until ready to use.
Cauliflower Puree
makes about 3 cups
1 head cauliflower
1 stick good quality butter
1 c. Water or chicken stock
2 Tbsp. Minced garlic
1/2 c. Heavy cream
Salt & Pepper to taste
Cut the stem out of the cauliflower and then cut into 1"-ish pieces.
Combine everything in a pan with a lid and bring to a boil, reducing to a simmer and allowing to cook for about 30 minutes.
When tender, blend thoroughly with a stick blender and then season with the salt and pepper. Adjust accordingly and set aside until ready for service.
Fennel & Cucumber Salad
makes about 2-3 cups
1 ea. English cucumber
1 c. Finely shaved raw fennel
Juice of 1/2 lemon
3 Tbsp. Good quality champagne vinegar
2-3 Tbsp. Sugar, or to taste
Slice the cucumber and fennel as thin as you can. If you have a mandolin that would be ideal. Set these in a bowl while you make the dressing.
In a pan, heat the vinegar, lemon juice and sugar until the sugar is melted. This is the only reason that you're heating it up.
Allow to cool enough so it doesn't cook the cukes. Pour on top of the vegetables and toss well.
Do this about five to 10 minutes before serving, as you don't want the cucumbers to be too wilted.
Paul Suplee is the owner of Boxcar40 in Pittsville
and senior lecturer of culinary arts at UMES.