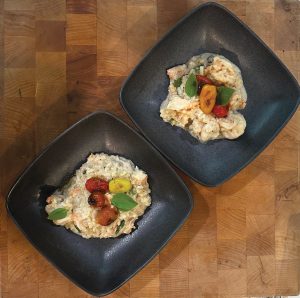 By Paul Suplee, MBA, CEC, PC-3
Have you ever tried to write an article on an Apple product after being a Windows guy your whole life? This is pure hell, but desperate times call for desperate measures. This little abacus-resembling device may as well be a stone tablet.
Dramatic much, Old Man Paul? Perhaps on occasion, but whose fault is it that I forgot to bring my tablet with me? That blame rests solely on me. I am man enough to admit that. And let's face it, as we get older, and I am old enough to live in a retirement community now, we tend to shun technology that is unbeknownst to us. All of a sudden, I feel like Clint Eastwood in that movie where he's the surly old bastard yelling at kids on his front yard. How do you even spell "curmudgeon?"
As I sit here packing up one closed restaurant, packing up the house that we've lived in for seven years and otherwise redefining life as we know it, I, of course have to work in between the many adventures. I cut back on catering last year, but this summer I have had a handful of incredibly fun and amusing events. My last one was at the famed Gillis' Island, and if you have been there, you know how absolutely wonderful it is to even be there, let alone be able to show off your limited talents and skills.
I made a bold decision and served rice on subsequent courses with the risotto you see here, and then a delectable chicken dish served on forbidden rice with a shaved fennel and English cucumber salad. It was divine.
I did this because it is not unusual to have someone who is gluten-free and while I know two rice dishes back-to-back is not ideal, I also understand how starkly different risotto can be from the so much adored (to me) black or forbidden rice. And, it worked. They loved it.
To get back to the risotto you see here in the photo and recipe, this has so many things going on that you have to make this a time or two to figure out how you would like to make it. My goal was not to make a seafood risotto, but rather a risotto that was absolutely stunning and then add some seafood to it. There is just something about a risotto made from a homemade, rich chicken stock that is unparalleled. Then, adding the leeks just magnifies the flavors and is a proper addition to the dish.
As for the shrimp, when you make this dish, or honestly most dishes with shrimp with the exception of shrimp cocktail, do me, you and your guests one favor: please remove the tails and butterfly them.
The former is to avoid the discomfort of having to fuss with tail removal in the middle of a good meal, and the latter is because they simply cook better. They show better, and they don't end up as rubbery as they can if you simply keep them whole. Trust me, just a couple dishes cooked this way, and you will understand what I'm saying. It is simply a better finished dish.
So, as I sit here finishing my evening's worth of my life's work, I am pleased that I get to write about risotto. I don't do it nearly enough. It is a delightful dish that is truthfully simple to make. It just might take you a time or two to work out the kinks.
The great thing is that you can cook it to al dente, spread it out on a pan and chill it. Then, just heat with some water, cream and butter and you are good as gold. It's a great little industry trick.
So, go make some risotto, play with new technology and for goodness sake, stop being so dramatic.
Shrimp & Lobster Risotto
serves 4
2 Tbsp. canola oil
2 c. Arborio rice
2 Tbsp. Finely minced shallots
2 Tbsp. finely sliced leeks
1 c. Finely chopped mushroom blend, or at least baby bellas
1 Tbsp. Smashed garlic
splash Dry Sherry
1 c. Dry white wine
Chicken or seafood stock, as needed
salt & pepper, to taste
8 ea, Jumbo shrimp, peeled, deveined and tails removed
8 oz. Lobster meat
cream and butter, as needed
Heat the oil in a sauce pan large enough to hold everything.
Add the rice and toast; you want to be able to smell a little bit of the toast, but you don't want it to burn.
Add the shallots, leeks and mushrooms and cook for a few minutes.
Add the garlic and cook for two minutes.
Add the sherry and the wine and cook down, stirring well.
Add the chicken stock, a little at a time and as it is absorbed, add a little more.
Once the risotto is tender, season and add the shrimp and lobster and cook until that has cooked through.
Add cream and butter slowly to make sure that it absorbs. You want it creamy, but you don't want it soupy.
When it is all done, set aside until service time and make a lovely basil oil. I've written about that enough, but basically just put some red wine vinegar, champagne vinegar, fresh basil, garlic, salt and pepper and blend to a puree. This makes a lovely garnish that has the most beautiful punch to it.
Paul Suplee is the owner of Boxcar40 in Pittsville
and senior lecturer of culinary arts at UMES.