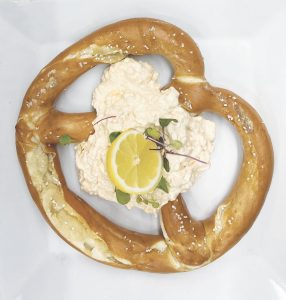 By Paul Suplee,
MBA, CEC, PC-3
I love traveling to the South. Hell, I love traveling to the North, East and West as well. I just love traveling. There is never a shortage of things to learn when one gets out of Dodge, and there is no better way to do so than under the guise of "research."
Now, research is an invaluable tool when it comes to menu development and cultural education, so I imagine using the term guise is not well-fitted in this instance, but I digress.
My daughter transferred to Flagler College last year, and as such we have flown to Florida quite a few times for college tours, securing housing, touristy things and otherwise getting out of said Dodge. St. Augustine is beautiful, and history abounds in this tiny waterfront town. And, while the restaurant scene is solid (and just like anywhere they are suffering the labor shortage splendidly), there are a few favorites that we have found over our year of scouting.
I think my favorite aspect of food here is that it is mostly southern food, as it is in The South. I know, it's strange but deal with it. What we have found is that our favorite spots lean towards southern cuisine, and I can live with that: Fried Green Tomatoes, Pimiento Cheese Dip, Chicken Fried Whatever, Greens et al. The Floridian is a great spot, as is PK, Blue Hen, The Distillery, Preserved and others. There is a lot of comfort food, some well-refined and served up for our pleasure in this quaint little town.
Of course, I can't forget two of our favorite restaurants, one French and one Italian (Sainte-George and Alta Marea, respectively), but they aren't in the scope of this piece. Once again, digression.
St. Augustine is reverently known for the Datil Pepper, a chili that is grown in great abundance in the region. As hot as a habanero, it has an incredible flavor and is manufactured into hot sauces, dry rubs and seasoning blends. It can be found in stores around town, and we fell in love with them on our first visit. Adding this to the dip adds a very Florida touch and is well received by guests as long as you don't use too much.
The dip in the picture is a warm pimiento dip atop a fresh soft pretzel. Soft pretzels are incredibly simply to make, but one little trick makes them even better: baking your baking soda. As Harold McGee (renowned author and food scientist) noted in a 2010 New York Times article , the process results in a "a more muscular and versatile alkali". The process of baking the baking soda at 250 degrees for an hour supercharges this alkaline substance and makes it more akin to lye, which is used to give corn tortillas their texture and almost meaty flavor.
The simple act of baking the soda ahead of time makes your alkaline solution more potent and the finished product much more palatable. To think that it was right under our nose this whole time. Who doesn't love a good kitchen hack?
And now I must bid you adieu, as I prepare for Vegas. Travel, we must. Enjoy, we shall, and eat well we will. And along the way, oh the things we will learn.
Pimiento Cheese
serves 4
8 oz. Cream Cheese
1/2 c. Duke's Mayonnaise
4 oz. Pimiento, diced
1 tsp. Dried parsley
1 1/2 c. Shredded cheddar blend
2 scallions, sliced
1 Tsp. Coarse ground mustard
1 tsp. Datil hot sauce
S&P to taste
Datil dry rub, for garnish
Combine everything together except for the salt and pepper, mixing well to make it as homogenous (albeit lumpy) as possible.
Season accordingly and set aside until service.
When ready to serve, simply gently heat and keep warm.
Soft Pretzels*
makes 6 jumbo pretzels
1 1/2 c. Warm water
1 Tbsp. Sugar
2 tsp. Kosher salt
1 packet active dry yeast
4 1/2 c. AP flour
2 oz. Unsalted butter, melted
Vegetable oil, as needed
10 c. Water
2/3 c. baking soda, baked (see article)
1 large egg yolk with 1 Tbsp. water
Coarse sea salt
Combine water, sugar and salt in the bowl of stand mixer and sprinkle with yeast.
Let it rest for 5 minutes, or until you see the yeast doing its magic.
Add flour and butter and mix with a dough hook for 5 minutes.
Remove dough, clean the bowl and oil it.
Place the dough back in the bowl, cover and rest in a warm place until doubled in size.
Preheat oven to 450F.
Bring the water and baking soda to a rolling boil while you are portioning out your pretzels.
Portion out the dough into 4 equal pieces. This is for jumbo pretzels, so you can halve these as you see fit.
Roll them into ropes and perfect your pretzel-making skills.
Be creative on how to transfer the dough to the water as you want to maintain that pretzel shape.
Cook for about 30-45 seconds in your alkaline bath, and then remove to a sheet pan lined with parchment paper.
Brush with the egg and sea salt and bake for 12-14 minutes, depending on your oven.
Remove when the pretzel is a little past golden brown and serve with the pimiento cheese.
*from foodnetwork.com
— Paul Suplee is the owner
of boxcar40, boxcar on main,
boxcar crafted events and sportfish catering.
www.boxcarrestaurants.com