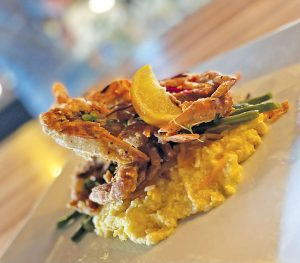 By Paul Suplee, MBA, CEC, PC-3
Aristotle once said, and I quote, "Flimflam practitioners of the arts often paint pictures of scrumptious feasts, but I see nothing but gobbledygook."
This has been challenged by scholars for centuries, but it has nary been unproven.
I lost a bet, and to top it off, it's late, and there is a slight chance that I may be paraphrasing, but I am pretty sure that I can agree with this sentiment.
Everyone has an opinion about the food they eat either at home or in another establishment, whether it be at a friend's house or a restaurant, but at some point, we all have that one buddy who knows more than everyone else.
They tend to go overboard on their assessment on the efforts of the chef or cook or just-plain friend, and that can be wholly annoying.
It's all nonsense, isn't it? One man's trash is another man's treasure?
Honestly, I couldn't agree less, as anyone who is eating our food is ultimately our benefactor. We all do the best that we absolutely can.
The effort should outweigh the result. If they don't like the food, shouldn't we at least ask why?
Taste is such a personal thing (a concept that is infuriating to chefs), but it thus becomes our job to help our guests realize whether they like a dish or not.
Believe it or not, the last part of that sentence has everything to do with the "why," as to why we are chefs in the first place.
They are the ones who write, or express otherwise, the glowing or scathing reviews, and ultimately decide what is to become of us. It's almost as though it's a déjà vu of my days at the club.
I loved that place, but good lord the opinions … I'll stop right there… the opinions.
Being a club chef is a volatile venture, as one has to almost be ambidextrous, if only in the metaphorical sense, in creating amazing meals, and on the daily level, creating the best burger you have ever had.
A club chef is only as good as his best burger. Never forget that.
Let it be known that our industry is under more duress than ever before, but I literally could not be any prouder of my colleagues than I am right now.
The levels of difficulty are mind-numbing and frankly I am proud to know so many operators who are killing it: Not surviving… but actually killing it.
That is inspiration in and of itself. And the level of versatility that my colleagues took to survive this shockwave? I'm truly bumfuzzled.
And here I sit, with the last few dozen fresh softshell crabs of the season, a testament to the ambiguity of our bay's ecosystem. And we just can't get away from it.
I can't get enough of softshell crabs, and I know that the time is nigh.
But, when we can get softshells, it's a different ballgame altogether.
We buy them, oh yes we buy them whenever we can. That is our job. And at the end of the day, we serve the softshells the best way that we know how.
We make everyone happy that they ever knew us. We might not be the best, but we love what we do.
Soft Shell Crabs
Serves 4
4 ea. Whale or Jumbo softshell crabs
3 c. Buttermilk
1 Tbsp. Malt vinegar
1 Tbsp. Old Bay Seasoning
2 c. AP Flour
2 Tbsp. Old Bay Seasoning
Clean the softshell crabs, and if you don't know how to do that, pull up at least four videos on how to do so, or contact a local professional (we are all mostly willing to help).
Combine the buttermilk, Old Bay and vinegar.
Combine the flour and the crab seasoning at the end of the recipe (I loathe redundancy).
Soak the crabs in the buttermilk for at least a hot second and up to 10 minutes.
Remove, and dredge in your seasoned flour, knowing that the longer that you stay in place, the crispier and more luscious the softshell will be
When the crabs are sufficiently breaded, fry them in 375F oil until they are golden brown and cooked throughout but not destroyed
Remove and serve on cheesy grits and roasted asparagus
Cheesy Grits
serves 4
1 quart chicken stock
1 c. Yellow polenta
1/4 c. Butter
1 c. Heavy cream
1# Sharp cheddar cheese
½ c. Decent parmesan
Salt & Pepper to taste
Bring stock to a boil and sprinkle in the polenta while whisking.
Cook for about an hour on a low heat after it has thickened, stirring constantly.
When the polenta takes on a creamy feel, add the remaining ingredients and stir thoroughly.
Season to taste and set aside.
At this point, and it goes without saying, adjust the flavors to you … your taste. Make it yours.
Roasted Asparagus
serves 4
1# fresh asparagus
Melted butter
2 ea. Garlic cloves
Salt and pepper to taste
Trim the ends off of the asparagus. If it is old and fibrous, you could peel it and use it as you would broccoli stems. Otherwise, simply discard.
Saute in the butter with the garlic until things have softened a bit.
Season and serve.
— Paul Suplee is the owner of
boxcar40, boxcar on main,
boxcar crafted events and
sportfish catering.
www.boxcarrestaurants.com