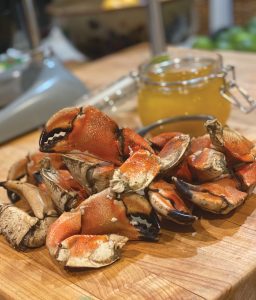 Reprint from May, 21, 2020
Once again, Capt. Sonny comes through for the win! I know I write about the champions of the sea perhaps too much, but one of my favorite parts of living down here is driving to the commercial docks for dinner.
Whether it is day-boat scallops, rockfish, sea bass, lobster or stone crab claws, it is always a treat as you know it is fresh out of the ocean.
And truth be told, I had no idea that they were catching stone crabs in the Washington. You truly learn something every day.
And as the notification came in from the Skilligalee that they had the claws, I was dressed and in my truck, still half-soaked from getting ready in the morning.
After some near-death experiences on Route 50 with the construction as well as a feisty ATM machine, I was pleased to get to the docks before they ran out.
Securing my haul at an overly-reasonable rate, I met a friend from Annapolis for a small hand-off and then went home and cooked and chilled them.
I've had stone crab claws plenty of times in Florida, but I wanted to play a bit with these. I didn't steam them. I quasi-steamed them in a bath of beer, water and Old Bay.
When they were done, I served them with a mustard sauce that I think stands up to any that you may have had on the panhandle.
And if truth be told, and I think it should, I had some of my lime-cilantro crema in the icebox from last week's carryout dinner and I just threw some yellow mustard in there. And I was in love.
And when I say in love, I mean in love. This sauce is fantastic! As we strive to open our new concept of a market (sit down, take out, prepared foods, etc.), I will definitely make this a hallmark on the new menu. And yes, I am touting it that much. As I am fond of saying, "#stayhumble."
So as you wander through the day, start following the commercial fishermen in the harbor, get their notifications and definitely support local. These men and women work harder than most of us ever will.
The beauty is that we get to stuff ourselves with fresh, healthy and beautiful seafood in the thick of it.
Stone Crab Claws
for 5 pounds-worth
5 lb. fresh stone crab claws, cleaned
2 c. Water
1 bottle beer
Old Bay, as desired (don't shoot me, Floridians)
2 c. mustard sauce (recipe follows)
2 c. lemon brown butter (recipe follows)
Old Bay, as needed
Scrub the claws, as they can be a bit dirty when they are fresh.
Bring the water, beer and Old Bay to a boil in a pot large enough to easily handle the claws.
When at a rolling boil, throw in the claws, cover and cook for 4 1/2 minutes. Don't overcook. Some people prefer steaming them, but this has always worked for me.
Stir them occasionally, and turn off when they are cooked through. I can tell when they're done, but feel free to crack one to check. A word of warning, though. When they are hot, they can fall apart. When they are chilled they are much easier to work with.
Chill them completely. I put mine in the refrigerator uncovered, and some people put them in an ice bath. For me, I don't want to lose the flavor that I cooked them in.
When they are done, simply pull the leg and knuckle from the claw and crack open with a swift crack from a crab mallet on each side.
If possible, keep one of the pointy shells connected to the claw for dipping, and arrange on a plate with lemon.
Serve with the mustard sauce and butter or any sides of your choosing.
Mustard Sauce, Paul-Style
makes little more than 2 cups
2 c. crème fraiche (crema fresca at any Latin market)
Juice of 1 lime
2 tbsp. finely minced cilantro
2 tbsp. Champagne vinegar
2 tbsp. yellow mustard
Don't yell at me. This is how I make it, and this is how I like it.
Mix it all up. Adjust as you see fit.
Commence to yell at me because you've been to Florida.
Lemon Brown Butter
makes about 1 ½ cups
1 lb. whole unsalted butter
Juice and rind of 1 lemon
2 Tbsp. trimix
Place the butter in a saucepan and heat on medium.
Butter in a water/fat emulsion, so as you melt it, the butter will separate into several layers.
Let the butter be. If you want to be a purist and remove the foam from the top, please feel free. I leave it there and strain it later.
As the butter melts and the water boils, it will evaporate through the fat. This is when the fun stuff happens.
The milk solids will start to brown once they are frying in the fat, and that is what gives the brown butter that magical essence.
At this point, add the lemon and trimix and cook until you can smell the beautiful aroma of brown butter, lemon, pepper and garlic all in the same waft.
Strain through the finest strainer that you have, or cheesecloth (preferred).
Keep warm until ready to serve.
Paul Suplee is the owner of the
boxcar restaurants and is also
Senior Lecturer of Culinary Arts at UMES.
boxcarrestaurants.com