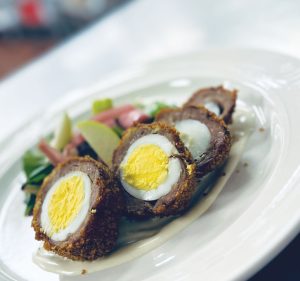 By Paul Suplee, MBA, CEC, PC-3
I sat down to write about Scotch Eggs, but I have a brain that merrily jumps from one topic to another at a moment's notice.
I'm looking out my back window, glancing past my computer and looking at a stunning patch of bright green grass.
Nowhere else in my back yard is the grass as green, nor does any of foliage come close to the splendor of this mightily lush grouping, especially this early.
And then I remember that this is where the septic tank overflowed after the pump went up last month.
Ah, yes, I remember that day well. I was in an online meeting with a gaggle of others from work, and I could not discern what my idiot dog was splashing around in.
Befuddled, I turned off video and went outside, discovering the ugly truth. I was not happy. Winston was thrilled.
Well, to say he was thrilled would be an understatement. He was enthralled with his new discovery.
Needless to say, I did not let him follow me inside and I had to sit through him barking incessantly for 45 minutes, as I waited for the meeting to end. Once it was over — and after my coworkers had their laughs — I put on a pair of surf trunks and promptly gave that mongrel the scrubbing of a lifetime. I then showered for an hour.
God, why do we own animals and keep them in our houses? Humans are the strangest of them all, I guess.
Well, at least I know that little area of the yard will grow well this summer. It is a sneak preview of spring, and now that we are a mere few weeks away, I'll take it, septic overflow, and all.
But, this is not why I brought you here today. No, I was thinking about a random trip to Busch Gardens years ago with my two youngest children. We went on a Labor Day Monday, which we expected would be one of the busier days. We were not further from correct, as the park was half-full at best.
Apparently, other parents actually care about having their children well-rested and prepared for school, but not me. A trip to an amusement park three and a half hours away sounded like a much better way to send off summer.
We had a spectacular day, and as luck would have it, the previous foodservice provider in the park had this great tapas theme happening throughout the park, all for $4-5.
In Italy, you could get a tiny meat and cheese board with olives. In Ireland, they had a Guinness Chocolate Mousse (my favorite). I can't remember what they had in England, but in Scotland they had the Scotch Egg.
The mighty Scotch Egg still holds a bit of fascination for me, as who in their right mind decided to deep fry breakfast? I'm not complaining, as I love them but — good lord — they can be decadent.
Served with a mustard sauce and some tossed greens, they make a perfect appetizer for a dinner party, and quite frankly, they could pass as a good hangover helper, so think brunch and you're golden.
So as you look out your window eating your Scotch Egg, hungover on a Sunday morning, raise a Bloody Mary in my honor, and try not to think of Winston splashing in questionable puddles. You're welcome.
Scotch Egg
serves 8
8 whole, fresh eggs
1 lb. Sweet or hot Italian sausage
1 c. AP Flour
1 c. Cornstarch
Salt & Pepper, as needed
3 whole eggs
1/2 c. Whole milk
4 c. Panko breadcrumbs, processed fine
Oil for frying
Boil the eggs by placing them in cold water and placing on a high burner.
When they come to a rolling boil, remove the pan from the heat and let sit for 11 minutes.
Drain the water and cover with ice water to shock the eggs.
Peel and pat dry.
Divide sausage into 8 equal portions and press flat.
Wrap each egg with an even layer of sausage, making sure that the sausage is sealed all the way around.
Set up a breading station with three pie pans or similar containers.
In the first you will put the flour, cornstarch and seasoning.
In the second will go the milk and eggs, well-beaten.
In the third will go the breadcrumbs.
Dredge (lightly coat) an egg in the flour mixture, then transfer to the eggwash.
Coat the egg and transfer to the panko.
Heat oil to 350F and fry the eggs until they are nice and toasty. I like the lower temperature since the egg can go longer, cooking the sausage and heating up the egg, which will end up with the cooked, firm egg yolk.
Remove and allow them to cool for a bit, serving on greens with a little coarse mustard. You can also cook a simple mustard sauce with some white wine, cream and said coarse mustard as well. It goes well with this dish (recipe follows).
Mustard Sauce
makes about 1 cup
3/4 c. Duke's Mayonnaise
Juice of half a lemon
2 Tbsp. Coarse or Dijon mustard, your choice
Dash of favorite hot sauce
S&P. to taste
Combine all ingredients well and allow to sit for at least an hour so everything can come together.
— Paul Suplee is the owner of boxcar40,
boxcar on main, boxcar crafted events
and sportfish catering.
www.boxcarrestaurants.com