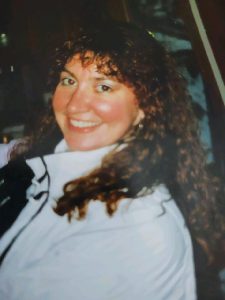 Toni Lyn (Berhosky) Atkins
Newark
Toni Lyn "Jessie" (Berhosky) Atkins, 54, of Newark, Maryland, passed away on Friday, Aug. 19, 2022, after a brief illness, surrounded by family members.
She is survived by her loving husband, Tom Atkins; mother, Donna (Berhosky) and stepfather, Edward Stover (Thomson, Georgia); brother, Brian Berhosky and his wife, Linda Range, (Coraopolis, Pennsylvania); brothers-in-law, Kevin Kline (North East, Maryland) and Bob Atkins (Selbyville, Delaware); mother-in-law, Olivia Kline and step-father-in-law, Pete Kline (Angola, Delaware); step sister-in-law, Jenny Kline (Angola, Delaware); and step brother-in-law, Pete Kline, Jr. (Baltimore, Maryland), as well as many nieces, nephews, cousins, aunts and uncles.
She was preceded in death by her father, John Berhosky, and her half brother, Wayne Czerwinski.
A 1985 graduate of State College Area High School (Pennsylvania) she went on to receive an Associates Degree in Baking and Pastry Arts from the Culinary Institute of America.
Toni had a warm, loving, bubbly personality and was a friend to everyone.
In her youth, she was a flutist for her school bands, and was a talented ringer for her church handbell choir.
She was a member of Trinity United Methodist Church in Newark, Maryland, and sang in the church choir. She loved animals and was particularly fond of cats.
There are no plans for a funeral.
Memorial contributions can be made to the North Shore Animal League, 25 Davis Avenue, Port Washington, New York, 11050; or Trinity United Methodist Church, 8355 Newark Road, Newark, Maryland 21841