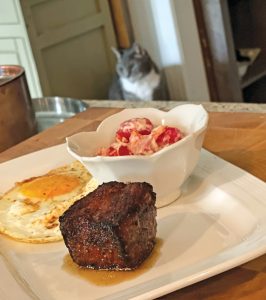 By Paul Suplee,
MBA, CEC, PC-3
The decision-maker waits patiently, his aging eyes straining to inspect the perfect chunk of beef on my plate.
His nose twitches as he smells the farm-fresh eggs and the warm and cheesy stewed tomatoes, accentuated with goat cheese and homemade pesto from my girlfriend's garden.
L'éminence grise of this puppet show, Oscar, pulls the strings, ensuring that all the players perform as expected. He knows all too well the power that he holds in this castle.
I am nervous as he leers at me, believing me to have left the steak on a touch too long, but he could not be further from the truth. The steak is delightfully medium rare.
A splurge of this magnitude cannot be mistreated, overcooked or abused in any manner. To do so would be a mortal sin.
An A5 BMS 10+ chunk of Wagyu beef (true Japanese Wagyu from the Miyazaki Prefecture) strip loin is hands-down the finest chunk of beef I have ever eaten.
And as I simply cannot rationalize buying an entire loin (a 4-ounce portion is more than enough even for my hefty frame), I order my 4-pack of 4-ounce chunks from the Rare Cuts Meat Company online.
While true Japanese Wagyu is still incredibly expensive, a connoisseur could indulge themselves once a month or so. Being vacuum packed and well-documented, they will hold that long.
I continue my quest for the perfect post-Easter brunch. A great deal is happening on this seemingly simple plate of brunch; a warm tomato-goat cheese salad with pesto from Ebelein Farms and two farm-fresh duck eggs from a producer in Willards.
The rich, custardy yolk is the perfect accompaniment to the piece de resistance.
I stumbled across some new spice blends from Spiceology recently, and the Jet Tila Fiery Sweet is fantastic. While I would never use it on my Wagyu (sticking with my ubiquitous trimix or even simply salt and pepper), it is divine on the over easy eggs, at least not in excess.
The bite that it gives the eggs brings them to life and makes them a great addition to a mid-morning pick me up.
When my girlfriend brought her homemade pesto over for Easter, she proceeded to add it to slightly roasted tomatoes that she then schmeared with goat cheese.
Three ingredients never married so well. Of course, I am aware that pesto itself has more than one ingredient, you get the idea.
The acid from the tomato, the creaminess of the cheese and the flavors of the pesto made this dish instantly perfect both warm and cold straight out of the icebox. I still warmed mine up for this morning, but man is this stuff amazing!
And here I am, eating this delicious feast under Oscar's hateful gaze. But, I cannot veer from my original plan.
Not an ounce of scrap will go to anyone but me. Not even my sidekick Dr. Winston will get a crumb from this, as there won't be any to give.
Mayhap in your next life you will be a searer of meats, but that is not mine to decide. For now, I will simply have to enjoy the most expensive steak & eggs I have ever eaten. And it is one that I am sure to eat again, given my druthers.
Oscar, again I say "no"! You are a cat. You have no power over me, or at least until you sleep on my face at night, being the revengist that you are. And now that I am saying this out loud, how does a tiny sliver of this beef sound, Your Eminence?
Seared Wagyu A5 Steak
serves 4
4 ea. 4-oz. Wagyu A5 BMS 10+ sirloin steaks
Trimix, as needed
8 ea. Farm-fresh eggs over easy (recipe follows)
2 c. Warm tomato salad (recipe follows)
Pesto, as needed (recipe follows)
• Season the wagyu steaks on all sides (assuming that they are cubes) and heat a frypan but don't let it smoke.
• You do not need any fat in the pan as true Wagyu has plenty. It is similar to searing foie gras.
• Sear the steaks on all sides for about a minute and a half per side. Get the internal temperature to 120F and pull off the heat to rest for ten minutes.
• Serve with the eggs and warm tomato salad. Be simple.
Farm-Fresh Eggs, Over Easy
for 8 eggs
8 ea. Fresh eggs, duck if possible
Jet Tila Fiery Sweet™, as needed
butter, as needed for pan
• If you want to be extra Gucci, crack your eggs in a bowl to ensure that all yolks are unbroken and that there are no shells. That's just another dirty dish for me, so I skip it personally.
• Melt the butter in a non-stick pan and slowly add the eggs, one at a time.
• Season and cook on a medium to low heat until the whites are cooked and the yolks are still that glorious, unctuous runny gold.
• Keep warm until service.
Warm Tomato Salad, Goat Cheese, Pesto
makes about 1 c.
1 qt. Grape Tomatoes or other small heirloom type
1 small stick of goat cheese
Pesto, to taste
Salt & Pepper to taste
• Place the tomatoes, cheese and pesto in a bake proof pan.
• Broil until the tomatoes start to soften.
• Remove, taste and season accordingly.
• Keep warm until service.
—Paul Suplee is a Professor
of Culinary Arts at Wor-Wic
Community College and owner of
boxcar40 and boxcar on main.
Visit him at www.boxcar40.com;
www.boxcaronmain.com