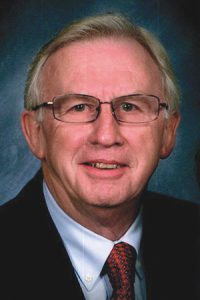 William John Burke
Berlin
William John Burke, "Bill," age 83, passed away on Sept. 24, 2022 at Atlantic General Hospital.
A native of Ireland, Bill came to the United States in 1963 after graduating from St. Patrick's College, Carlow.
He moved to the Eastern Shore in the early 1980's after spending 17 years in Arizona as a Catholic priest.
He became marketing director for Taylor Bank, where he was also involved in debit card programs and in the bank's advertising. He remained with the bank for 24 years.
Bill was a member of Holy Savior Catholic Church where he was a lector and member of the choir.
He was past president of the Ocean City Lions Club where he was named a Melvin Jones Fellow and a life member.
He was also past president of Diakonia, the Berlin Chamber of Commerce and the Berlin Heritage Foundation. He worked through local nonprofits to provide storage buildings for three homes Habitat for Humanity built in Berlin.
He was a member of the Delmarva Irish-American Club and the A.O.H.
He was named Berlin's Citizen of the Year for 2007. He also volunteered at the Berlin Visitor's Center and was on the town's Ethics Commission.
Bill loved to walk and ride his bike in the early morning on the Boardwalk. One of the joys of his life was to watch the sun rise over the horizon.
Several times a week he spent time having spirited discussions with friends over coffee. Believing laughter is good for the soul he often found humor in unlikely situations.
Bill was a strong believer in community. He believed that each person has a contribution to make so they can leave the community better than they found it.
He tried to live his life in accordance with the teachings of Jesus. "Come to me all who labor and are burdened, and I will give you rest."
He believed that each of us has the capacity to be a bridge over troubled waters – we can reach out and help others carry their burdens.
He was the son of the late Richard and Bridget Burke.
He is survived by the love of his life, Donna; stepson, Richard Lawrence (Nikia); and five step-grandchildren.
He is also survived by one sister and one brother who live in Ireland.
He was predeceased by four brothers and two sisters.
A Mass of Christian Burial will be held on Sept. 30, 2022 at Holy Savior Catholic Church at 1 p.m. Friends may call one hour prior to Mass.
In lieu of flowers, a donation in his memory may be made to: St. Vincent de Paul Pantry at Holy Savior Catholic Church, 1705 Philadelphia Ave., Ocean City, Maryland 21842; or to the charity of your choice.
Arrangements are in the care of the Burbage Funeral Home in Berlin.