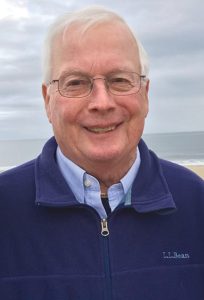 William Zifchak
Ocean Pines
On the evening of Dec. 7, 2022, William (Bill) Zifchak died surrounded by his family in Ocean Pines, Maryland, at the age of 79.
Bill was born in Astoria, New York on Dec. 17, 1942 to Anne and George Zifchak.
He graduated in 1964 from St. Anselm's College in Manchester, New Hampshire where he was a member of its nationally-ranked intercollegiate debate team.
After attending a springtime debate tournament in Washington D.C., Bill decided that he would study law at Georgetown University Law Center.
Two years after beginning law school he joined the U.S. Army and completed a one-year tour of duty with the 4th Infantry Division in Vietnam, where he reached the rank of E-5, was awarded a Bronze Star Medal, and was honorably discharged.
Bill then returned to Georgetown, obtained his Juris Doctor and passed the Maryland Bar Exam.
In 1976 he joined the firm of Sasscer, Clagett, Channing and Powers – later Sasscer, Clagett & Bucher – where he practiced litigation, mostly insurance defense, up until his death.
Bill married the love of his life, Virginia (Ginny), in 1968 and raised a son, Jon, and a daughter, Kara (Davis).
Bill and Ginny were married for 54 years and raised their family in Riva, Maryland, where Bill was a community leader.
Later, they moved to Ocean Pines, where Bill and Ginny made many new friends.
Bill was a smart, capable and widely respected trial lawyer who had many friends and admirers in the legal profession.
His advice and counsel was widely sought after by his contemporaries and colleagues. He was a particularly effective advocate before juries, and judges trusted his extensive knowledge of insurance and personal injury law.
Bill was devoted to his family, loved the Chesapeake Bay and spent many hours fishing on his boat, the "Lady G," named after his wife.
He frequently traveled with friends and family to the Caribbean where he enjoyed snorkeling, body surfing and contributing to the well-being of local casinos.
Bill read extensively, enjoyed an occasional gin and tonic, and had a sharp and irreverent sense of humor. He never took himself too seriously.
In lieu of flowers, the family requests that donations be made in Bill's name to the Ocean Pines Volunteer Fire Department. Arrangements will be announced at a later date.
Letters of condolence can be sent to the family via www.burbagefuneralhome.com. Arrangements are in the care of The Burbage Funeral Home.